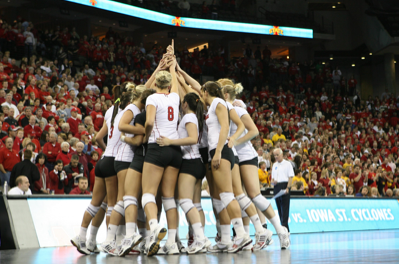 Tickets for the Sept. 11 Husker volleyball match with Illinois go on sale at 8 a.m. Aug. 3. The match begins at 7 p.m., Sept. 11 in the Devaney Sports Center.

Tickets are $15 for a padded chair back, $11 for a plastic chair back, and $9 bench seat. Fans can also purchase tickets for Husker volleyball's annual Red/White Scrimmage, 7 p.m., Aug. 21. Tickets for the scrimmage are $10 reserved, $8 general admission.

Tickets for the Illinois game and the Red/White Scrimmage can be purchased at http://www.huskers.com/tickets, by calling 1-800-824-4733, or at the Husker ticket office.

UNL Parking will charge $3 per vehicle to park on Innovation Campus for the Sept. 11 match with Illinois. This will be the first of the new parking fees in place at Nebraska Innovation Campus that are new this fall.
More details at: http://go.unl.edu/tt4