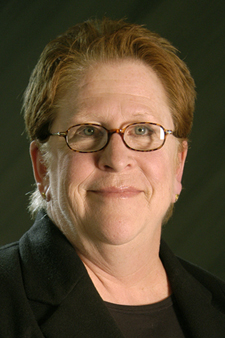 Advertising professor Stacy James received the Outstanding Service Award from the Advertising Division of the Association for Education in Journalism and Mass Communications.

"Stacy's expertise in graphic design and print production have been of great benefit to the division for many years," said Jami Fullerton, head of the AEJMC advertising division. "The executive committee unanimously selected Stacy citing her tireless commitment to the division as the AdNews editor and graphic designer of the Journal of Advertising Education."

James accepted the award in Denver, Colo., Aug. 6, and said, "It means a lot to be recognized by your peers."

The outstanding professional service award is one of three presented at AEJMC's national annual convention and members meeting. The advertising division publishes the Journal of Advertising Education, devoted to research and commentary on instruction, curriculum and leadership in advertising education and AdNews, a divisional newsletter. The advertising division of AEJMC acts as a bridge between academia and the professional community and serves the advertising industry.

At UNL, James teaches advertising courses in communications graphics, promotional writing, principles of strategic communications and the capstone advertising and public relations campaigns class.

"From a teaching perspective, I'm glad I've had both the agency and the client-side experiences," James said. "My most important goal is to help students become more knowledgeable and passionate about the business of strategic communications. I consider our students to be some of the best clients I've ever had."

Gary Kebbel, dean of the College of Journalism and Mass Communications, said "Recognition from your peers is always fantastic, and it works in two directions. Professor James has helped her advertising education colleagues, and also has had the opportunity to learn much from them. We congratulate her."

Before arriving at UNL, James had 18 years of professional experience, including 13 years with advertising agencies in Kansas City, Mo., and Lincoln, Neb., where she held positions in account service, public relations and creative. She also served five years on the client side as director of advertising and sales promotion for an international bedding products manufacturer.

She earned a bachelor's degree in advertising and a master's degree in journalism from the University of Nebraska-Lincoln.

More details at: http://journalism.unl.edu