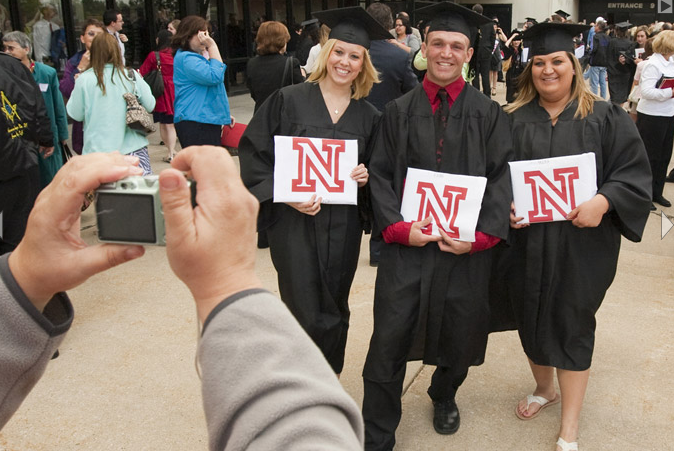 More than 700 students will receive degrees at UNL commencement exercises Aug. 13 and 14 at the Bob Devaney Sports Center.

The ceremonies include one for postgraduate degrees at 3 p.m. Aug. 13 and one for baccalaureate degrees at 9:30 a.m. Aug. 14. Nearly 400 students will receive diplomas for master's, doctoral and law degrees and more than 300 will receive diplomas for baccalaureate degrees. Chancellor Harvey Perlman will preside over both ceremonies.

William G. Thomas III, the John and Catherine Angle Professor in the Humanities at UNL, will deliver the address Aug. 13 to nearly the nearly 400 students scheduled to receive master's, doctoral and law degrees. Thomas has held the Angle professorship since he came to UNL in 2005. Now chair of the Department of History, he teaches U.S. history, with special focus on the Civil War, the South and digital history. His most recent book, "Blood and Iron: The Civil War and the Making of Modern America," will be published in May by Yale University Press. Thomas earned his bachelor's degree in history at Trinity College in Connecticut and his master's and doctoral degrees in history at the University of Virginia.

Roger Mandigo, professor of animal science at UNL, will address bachelor's degree recipients Aug. 14. It will be Mandigo's last commencement as head of the marshal corps. He joined the marshal corps in 1979 and has been head marshal since 1982.

Since joining the Nebraska faculty in 1966, Mandigo has distinguished himself as an expert in meat science and is internationally known for his discoveries in meat restructuring. His findings have helped the meat-processing industry better use lower-value meat parts to produce new, lower fat, flavorful products. In October, he will be inducted into the Meat Industry Hall of Fame, along with 11 other individuals, including McDonald's Ray Kroc; KFC's Col. Harland Sanders; and Wendy's Dave Thomas.

Widely respected in his profession, not only for his science but also for service and leadership, Mandigo is known at UNL for his long-standing affiliation with the university's Commencement Committee and marshal corps. University marshals are faculty members who serve as ceremonial leaders during academic ceremonies such as commencements, honors convocations and investitures or installations. Since 1982, Mandigo has officiated at three commencement ceremonies each year, all honors convocations and the investitures of three chancellors.

Mandigo earned his bachelor's degree from California State Polytechnic University at Pomona in 1961, his master's from New Mexico State University in 1963, and his doctorate from Oklahoma State University in 1967. He has served as president of the American Meat Science Association. In 2003, he received the Louise Pound-George Howard Award for Distinguished Service from UNL.

Handicap-accessible shuttle buses will be available for easy access to the Devaney Center entrance and handicap permit parking will be available on the north side of the building.

All ceremonies are free and open to the public, and tickets are not required. Graduate and undergraduate ceremonies will be Web-streamed live from the Devaney Center through a link at the UNL website, http://www.unl.edu.

A drop-off area for graduates and mobility-restricted guests will be available on the south side of the Devaney Center. Closed captioning for hearing-impaired individuals will be provided through the HuskerVision screens. Reserved seats for guests who are ambulatory restricted will be available next to the stage on the arena floor (for the Aug. 14 ceremony, a reserved area will also be available in Section B-11, accessible from the upper concourse). Guests in wheelchairs will be seated on the northeast corner of the arena floor.

Because of security concerns, parcels, handbags and camera bags will be subject to search.