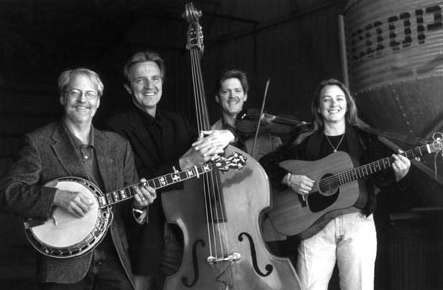 The Fountain Frolics summer concert series continues June 23 with the Toasted Ponies performing on the Nebraska Union Plaza. Fountain Frolics concerts are noon to 1 p.m. every Thursday through July 28 (except June 30).

The free concerts are sponsored by the University Program Council. For more information, click the link below.

Featuring four of the region's most popular and accomplished musicians, the Toasted Ponies play a unique blend of bluegrass, acoustic music and original songs. Members are Steve Hanson (banjo, mandolin and guitar), Erin McGovern (guitar and mandolin), Terry Keefe (fiddle and mandolin) and Jim Pipher (bass and emcee).

A lunch option will be offered for sale during the performance. UPC is selling Pepsi products during all Fountain Frolics concerts.

Remaining performances in the series are: July 7, The Melody Wranglers; July 14, The Lightning Bugs; July 21, Nebraska Jazz Combo; and July 28, The Resonators.