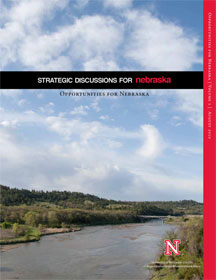 Strategic Discussions for Nebraska has published "Opportunities for Nebraska, Volume One," the first of four annual publications explaining the significance and relevance of UNL research.

The magazine is available online at http://www.unl.edu/sdn/opportunities and in hard copy.

The Opportunities for Nebraska series focuses on the university priorities of food, fuel and water, but also on education. Volume One serves as an overview, offering a sample of topics as well as an explanation of the university's land grant mission.

Strategic Discussions for Nebraska is a research program in the UNL College of Journalism and Mass Communications.

For more information, or to obtain a copy of the magazine, contact Mary Garbacz, Strategic Discussions for Nebraska coordinator, at mgarbacz2@unl.edu.
More details at: http://go.unl.edu/6iq