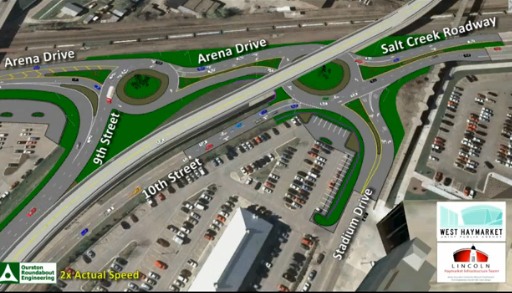 The new roundabout road system northeast of Memorial Stadium is scheduled to open to traffic Aug. 13. The project at 10th Street and Salt Creek Roadway is the first roadway improvement to be completed as part of the new traffic system for Lincoln's Haymarket Arena.

Information about how to drive on a roundabout is available at http:/lincoln.ne.gov (keyword is "roundabout."). A video simulation of the roundabout system near Memorial Stadium is available at http://go.unl.edu/e8v.

"Roundabouts have a proven track record of improving safety and traffic flow and also have environmental benefits," said Chris Beutler, mayor of Lincoln. "Because multi-lane roundabouts are new to the community, it is important that drivers educate themselves on how they function. The website provides not only written driving instructions but also a simulation of traffic flow at these two roundabouts and a very helpful video produced by the Nebraska Department of Roads."

The construction cost for the 10th and Salt Creek Roadway project including the two roundabouts is $2.9 million. The project was funded through the West Haymarket Joint Public Agency.

The roundabouts have been designed to handle year 2030 demand of 2,100 to 3,000 trips during the afternoon peak hour. Plans for traffic flow before and after Husker games are being developed and will be posted on the website.