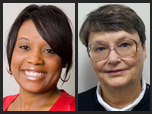 Amber Hunter has been promoted to director for admissions at UNL. At age 31, Hunter is UNL's youngest and first African-American director for admissions.

"It is an honor and a privilege to serve as the director for undergraduate admissions," said Hunter. "I look forward to working with UNL faculty, staff, and alumni in my new role to share with prospective students why UNL is a high-quality and affordable choice."

With more than 10 years experience in higher education admissions leadership, Hunter understands how to enhance and diversify a student body. She came to UNL in 2002 from the University of Kansas Office of Admissions and Scholarships as the assistant director for diversity recruitment. The last five years, she has served as an associate director/dean working with freshman recruitment; her work has been integral part of UNL's nine-year increase in enrollment. UNL's fall 2010 enrollment was the highest since 1992.

"Amber Hunter is regarded nationally as one of the rising stars in the college admissions profession," said Alan Cerveny, associate vice chancellor and dean of Admissions. "It is a real coup for the university to have her leading our undergraduate student recruiting efforts at this time."

Hunter also will continue her work as executive director of the Nebraska College Preparatory Academy, overseeing UNL's college access programs for low-income and first generation Nebraska students. Hunter earned her bachelor's in communication studies at University of Kansas, a master's in leadership education at UNL, and is currently pursuing a doctorate in educational administration at UNL.

In addition, Cerveny appointed Marie Barber executive director of Extended Education and Outreach. Barber has been involved in distance education teaching and learning at UNL for more than 20 years. She previously was director of Instructional Design and Development, heading a professional staff of 21 instructional designers and technologists involved in supporting faculty and teachers engaged in developing distance education courses and programs at the graduate, undergraduate, high school and non-credit levels.

As director, she was actively involved in creating distance education faculty development opportunities and still has responsibility for the conferences unit. Barber has been active in critical distance education and instructional design associations at the local, state, region and national levels. Currently, she is the chair of the Online Worldwide Research and Grant Community of Practice. Barber received her bachelor's degree in history, English and secondary education from Augustana College in Sioux Falls, S.D., and her master's degree in ancient history from UNL.