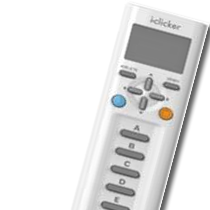 Based on feedback from tests in a campus lecture hall, UNL has selected iClicker2 as the university's new classroom clicker system. The new system replaces eInstruction clickers.

Clickers, or student response systems, are a technology to promote active learning during lectures. The devices allow lecturers to post questions to students and provide real-time data on the effectiveness of the lesson being taught.

Clicker technology has been used in UNL classrooms for seven years. The switch to the iClicker2 system is due to technical advancements and improved support for the devices.

"iClicker was chosen after running two vendor pilots in a lecture hall this past Spring semester," says Jeff Erb, Information Services Classroom Support Manager. "We worked closely with Academic Affairs and really listened to faculty and students input in selecting this technology."

The iClicker2 system allows instructors to poll students on the fly. Results can be uploaded to Blackboard in one click. The new system is completely portable, compatible with Windows and Mac, and is no longer limited for use in specific classrooms.

The iClicker2 supports multiple-choice, text and alpha numeric answers. The devices also employ a click wheel similar to an iPod Nano input control. Clickers retail in the University Bookstore for $39. A $10 mail-in rebate is being offered for students with the discontinued eInstruction clickers.

Faculty considering this technology for fall 2011 should inform the University Bookstore of their requirements. Training and support will be offered during the Power Classroom sessions provided by the New Media Center.
More details at: http://go.unl.edu/qii