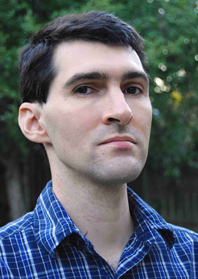 Gilles Basset, assistant professor of agronomy and horticulture, received the 2011-2012 Junior Faculty for Excellence in Research Award from the Branham Endowment Fund. The award is given annually by the Agricultural Research Division to a tenure-track assistant professor with an ARD appointment.

The award is for faculty with an ARD appointment who have less than five years of professional experience at UNL. The award is based on publication record, evidence of external funding activity and peer recognition.

A reception to honor Basset for the award is 2 to 3 p.m., Oct. 11 in the East Union's Sunflower Room.

Basset's appointment also includes the Center for Plant Science Innovation and the biochemistry department.

Basset has developed a robust research program at UNL centered on plant metabolic pathways for the synthesis vitamin K, a lipid soluble cofactor essential in plants for electron transfer reactions during photosynthesis. He has defined a unique pathway for the synthesis of vitamin K in plants, and his on-going research, currently funded by the National Science Foundation, continues to investigate and apply the knowledge to metabolic engineering of plants for enhanced synthesis of vitamin K as a vital human nutrient.

His laboratory has published several peer-reviewed manuscripts in top tier scientific journals and he has become a widely recognized expert on vitamin K.

During his career at UNL, Basset has formed many collaborations, both internally and externally. He has continued to be active in the scientific community and was invited to present his research at the 2011 Gordon Conference on Plant Lipids: Structure, Metabolism and Function. Basset takes an active role within his department, university-wide affiliations, teaching and mentoring, professional outreach activities and the Lincoln community.