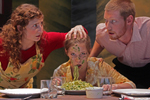 UNL's University Theatre has opened the new season with Eric Coble's "Bright Ideas." Organized through the Johnny Carson School of Theatre and Film, the performance shows at 7:30 p.m., Oct. 7 and 12-15, and 2 p.m., Oct. 9 in the Temple Building's Studio Theater.

Individual tickets are $16 general admission, $14 for faculty, staff and senior citizens, and $10 for students with valid identification. Season passes are available for $50 and $40 and are redeemable for four admissions.

Tickets and season passes are available at http://carsonschool.unl.edu, the Lied Center box office, by calling 402-472-4747, and in the lobby one hour prior to a performance. Reservations for performances are strongly recommended.

"Bright Ideas" tells the story of a young upwardly mobile couple that goes to extremes to guarantee their 3-year-old son's placement in the Bright Ideas Early Childhood Development Academy. The show is a comedy about contemporary child-rearing neuroses.

"Besides being a dark comedy that says some pretty outrageous things about what some people will do for their kids these days, 'Bright Ideas' is also a spoof of Shakespeare's 'Macbeth,'" said Virginia Smith, associate professor and director of the production.

"Bright Ideas" was originally produced by the Cleveland Playhouse. Its New York premiere was at the MCC Theater in November 2003.

UNL cast members are undergraduate theater majors, featuring Nick Wolf who plays Joshua Bradley, the father of the 3-year-old Mac; and Mac's mother Genevra Bradley who is played by Catherine Dvorak. Genevra's co-worker and a rival for the coveted spot in the Bright Ideas Academy, Denise, is played by Sarah Carlson. Other cast members are Maggie Austin, Jenny Holm, Reagan Lopez, Lindsey Roetzel, Nicholas Rouseel, and Devon M. Schovanec.

The production is designed by Joshua 'Raj' Rajaee (scenic), Julie Douglass (costumes), both graduate students; Aja Jackson (lighting), an undergraduate; and adjunct faculty member Jeff O'Brien (sound). The production is stage managed by Fred Drenkow.
More details at: http://go.unl.edu/j3j