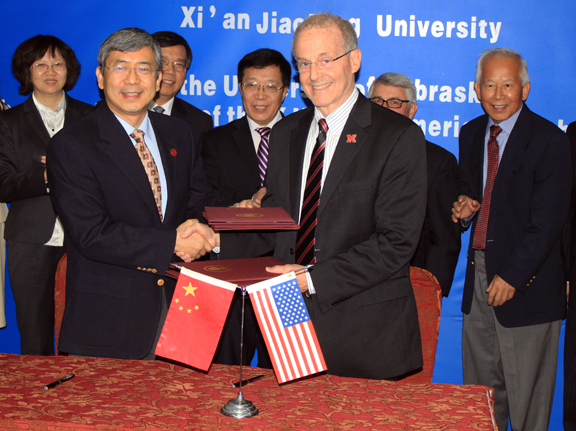 The University of Nebraska has signed an agreement with Xi'an Jiaotong University to create an American Culture Center in Xi'an, China. The center — one of only 10 to receive seed funding from the U.S. government — will initiate a variety of programs to expose students, faculty and staff at Xi'an Jiaotong to all things American, including history, government, art, law medicine and culture.

NU President James B. Milliken said the Culture Center is a groundbreaking university-wide initiative that builds on long-standing relationships UNL and University of Nebraska Medical Center have built in Xi'an. The center will operate much like the Confucius Institute at UNL, a four-year-old initiative – also with Xi'an Jiaotong as a partner – that promotes Chinese language, culture and history in a center at UNL.

Milliken said the American Culture Center would benefit faculty, students and citizens in Nebraska and China alike. With a population of about 10 million, Xi'an is the gateway to western China and plays a key role in efforts to advance the region. The central government recently named Xi'an China's third "international city" after Beijing and Shanghai. Although it is a major tourist destination, it does not have the same exposure to American culture as Beijing and Shanghai, Milliken said.

"The students in Chinese universities today will be the business and governmental leaders of China tomorrow, and cultural understanding is an essential ingredient to peaceful and constructive relationships," Milliken said. "Too often, impressions of the United States are formed through films, television and other artificial mechanisms rather than interaction with real Americans. Assuring a physical presence of Nebraska students and faculty in Xi'an with the ability to interact on a personal level will provide a better and more balanced view of the United States."

Milliken began discussions with Xi'an Jiaotong University President Zheng Nanning about the possibility of opening an American Culture Center that would serve as a reciprocal center to the Confucius Institute during a visit to Xi'an in November 2010. Milliken also discussed the idea with then-U.S. ambassador to China Jon Huntsman, who encouraged the university to move forward.

UNL Chancellor Harvey Perlman led subsequent discussions and recently signed the university's agreement with Xi'an Jiaotong.

Following an open competition among U.S. universities, the American Embassy in Beijing selected NU's Culture Center proposal to receive about $100,000 in seed funding. The U.S. government recognizes that university-to-university relationships are a critical component of increasing mutual understanding between the people of the United States and China, Milliken said.

Salaries, housing and facilities for Culture Center personnel and programming will be funded primarily by Jiaotong University, with support offered by NU in the form of professors, teaching assistants, books, online resources and computer and video equipment. The center will be managed by an executive director appointed by Xi'an Jiaotong and a deputy director appointed by NU.

The center will sponsor reciprocal student exchanges to permit students of each institution to study at the other for a year, semester or shorter periods, as well as an American Culture Week. The center also calls for faculty lectures, cultural performances and instructional courses to be provided by NU's four campuses at Xi'an Jiaotong University and in Xi'an and Shaanxi Provinces.

David Lou, a recently retired professor of mechanical engineering at UNL and the founding director of the Confucius Institute, will serve as deputy director of the center for one year until a permanent deputy director can be identified. Faculty and students from UNMC, the University of Nebraska at Omaha and the University of Nebraska at Kearney also will take part in classroom and laboratory research and cultural exchanges.

Xi'an Jiaotong University is a key national university under the direct jurisdiction of the Ministry of Education. It is a comprehensive research university offering programs in science, engineering, medicine, economics, management, art, law, philosophy and education. It has a current enrollment of more than 30,000 students including 13,000 graduate students studying in 20 schools, eight colleges and eight affiliated teaching hospitals.

In China for the signing of the memorandum of understanding, Perlman said there was excitement for the new Culture Center.

"Xi'an Jiaotong is providing us with good space in which to house the center and we are planning an 'American week' in the spring where students and faculty from Nebraska can interact with their counterparts in Xi'an," Perlman said. "This deepens the relationship between XJTU and the University of Nebraska and opens up expanding opportunities for student exchanges and joint research."

NU has identified China as a priority country for research collaboration and student and faculty exchanges. Collaborative research efforts between Nebraska and China in areas such as public health, agriculture, engineering, water and education – all historic strengths for NU – can help solve significant challenges facing both regions as well as the rest of the world. China also is a target for Nebraska's economic development efforts as the state seeks to enhance trade with China and increase its investment in that country.