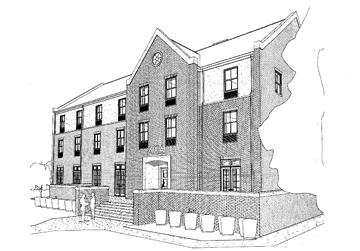 The University of Nebraska's R Street landscape will begin to change following the groundbreaking Sept. 25 at 17th and R streets - the new location of Lambda Chi Alpha's state-of-the-art chapter house.

Fraternity members, alumni, university officials and developers celebrated this historic university event at 11 a.m.

The new location, at 1645 R St., comes after years of negotiations with UNL. Approved by the NU Board of Regents in 2009, the swap traded the university-owned property at 17th and R streets for the fraternity's current location at 1345 R St. UNL plans to demolish the structure to make way for parking.

Lambda Chi Alpha's new three-story residential facility will allow for at least 60 live-in members, and will include a computer lab, gourmet kitchen and private study areas. The new home will be completed in August 2011.

WRK, LLC., also chosen to develop Lincoln's West Haymarket project, is leading the fraternity relocation project. Other partners include Olsson Associates, Kiewit Building Group, Clark Architectural Collaborative, R.O. Youker, Inc. and Advanced Engineering
Systems.