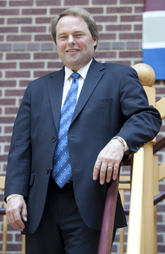 Neil Hamilton, founder of Drake University's agricultural law center, will discuss the role law plays in rural, food and agricultural policy at noon, Nov. 10 in the College of Law.

Hamilton, a professor of law at Drake, is one of the nation's leading authorities on the role of law in shaping agriculture and the food system. He has written more than four dozen law review articles and several books on food and ag law issues.

"Law plays a critical role in shaping America's food and agricultural system," said Hamilton. "Decisions about how we farm, what foods we eat, and who owns farmland are influenced by law. Whether the issue is protecting the quality of our food, creating opportunities for new people to farm, or preserving farmland, America's ideals are expressed and promoted through legislation. Law students, farmers and the public must understand the power of legislation to help society achieve its goals."

Hamilton's goal is to help students appreciate the empowering nature of law to shape public policy.

Hamilton's talk will also discuss how law schools like the University of Nebraska's, and faculty and students, are in a unique position to inform such policy in conjunction with the expertise that exists in the greater university.