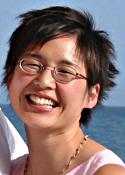 The ADVANCE-Nebraska Conversations series will feature Joyce Yen, program and research manager of the University of Washington's ADVANCE Center for Institutional Change, at 11 a.m., Oct. 15 at the Gaughan Multicultural Center.

Yen's presentation will include a video and a discussion on "Pitfalls and Promise of Candidate Evaluation."

Register at http://go.unl.edu/iw9 by Oct. 11 to receive free lunch and popcorn.

More details at: http://go.unl.edu/iw9