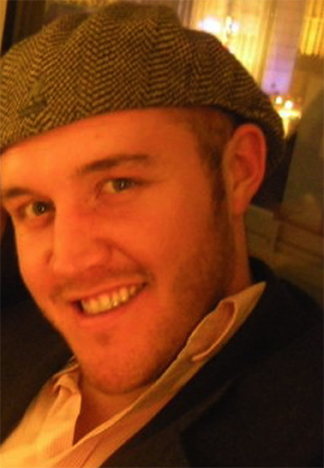 Drew Neneman, a Master of Music in vocal performance student in the Glenn Korff School of Music from Omaha, Nebraska, won recording time in an Omaha studio with Bright Eyes' Mike Mogis, as part of a recent songwriting contest.

Neneman and Luke Heffron, 18, of Skutt Catholic High School, were chosen from nearly 100 entrants in a songwriting contest associated with the musical "Once" through the Omaha Performing Arts Society.

"I was really surprised," Neneman said of his winning the contest. "Flattered, but surprised. It was exciting."

He only learned of the contest five days before the deadline, so he scheduled a small concert for his friends to help him select which of his compositions he should submit.

"I think I got it submitted five minutes before the deadline," he said.

Participants had to be 29 years or younger to enter. Neneman turned 30 two weeks after the deadline, so he was afraid he might get disqualified. Instead, he was selected and spent two and a half hours recording two of his songs, "Glad to Be" and "Another Love Song" at ARC Studios in Omaha with Mogis.

Mogis, a producer/engineer and multi-instrumentalist, is a permanent member of Bright Eyes with Conor Oberst. He has engineered, produced and performed in many of the releases on Omaha's Saddle Creek label, including records by Bright Eyes, The Faint, The Good Life, Lullaby for the Working Class and Cursive. In 2014, Mogis and Nate Walcott, also of Bright Eyes, composed the soundtrack for "The Fault in Our Stars."

"Mike was incredibly hands on and intellectual and compassionate about the music," Neneman said. "He was very free with his opinions of what you had done and what he wanted to change on a subsequent take."

Neneman wrote "Glad to Be" three years ago, while driving to Texas for a funeral.

"A really good friend of mine in Nebraska was calling me on the phone while I was driving because she had a relationship implode, and I was on the road to Texas with a lot of time to think," he said. "Just the catharsis of those two juxtaposed emotions rendered a song that I ended up keeping in my repertoire."

"Another Love Song" was written a few months earlier than "Glad to Be."

"These were two of the last songs I wrote before I went back to start my master's degree," he said. "Since I did the contest and was forced in five days or less to really get my chops put back together, I've been writing again more avidly."

He said the experience was an invigorating way to reintroduce himself into performing his own music.

"The aesthetic of singing pop music and jazz music and acoustic music is so different from opera and art song," Neneman said. "I'm doing my master's in voice with [Associate Professor of Voice] Kevin Hanrahan because I want to understand the mechanics of the voice in order to be a better teacher of all genres because young people don't just sing one genre."

He also has improved his technique.

"Because I took some time off from performing to work on my voice as a mechanism, I'm a lot better than I was two years ago," he said. "It was cool to get my hands back into the music that I write and perform as a more nuanced musician than I was."

He appreciates the feedback he got from Mogis.

"I can't emphasize enough how wonderful it was to talk with someone as experienced as Mike Mogis about my music in an objective way—what he thought was working and what he thought we should modify in some way and what he sees my music doing in the future," Neneman said. "That was an incredible experience."

Under the rules of the contest, Neneman cannot distribute his two tracks for money, but he is using them as demo tracks to get back into the Omaha performing scene. He and Heffron, who is a student at the SNJ Studio of Music that Neneman teaches at in Omaha, are each planning to record EPs and have tentatively planned a Sept. 12 joint concert to distribute their demos.

Neneman plans to finish his master's degree this December and continue teaching and performing.

"I really do love teaching, and I have a great job at the studio," he said. "I'll just continue to try to perform avidly and regionally and distribute my recordings as much as they'll be consumed. The best philosophy I've developed since I started teaching after my undergraduate degree is 'If you're good at the arts, then work picks you.'"

His goal in the next 12 months is to record an album with other musicians with his original music.

"I'm also blessed to have the problem that my performance schedule, especially as a liturgist and event singer, is full," he said. "It's a lucky thing to be able to pay your bills with music."

He also hopes his colleagues in Westbrook Music Building listen to the tracks he recorded.

"It's fun to hear what your classmates think of your music," he said.