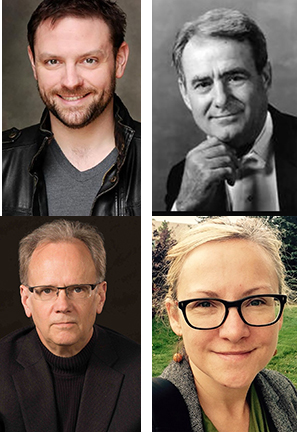 The Hixson-Lied College of Fine and Performing Arts welcomes the following new faculty this fall.

• Wesley Broulik is assistant professor of practice in the Johnny Carson School of Theatre and Film. He received his Master of Fine Arts in acting from Rutgers University and his Bachelor of Arts in theatre arts with an emphasis in acting and playwriting from the University of Iowa.

Broulik is a New York-based actor, writer, producer and director, currently serving as artistic director for Dark Luna Productions in New York City. He has worked as an actor off-Broadway and off-off-Broadway and at such regional theatres as George Street Playhouse and The Shakespeare Theatre D.C., where he received a Helen Hayes nomination for "Dog in the Manger." His television and film work includes "Person of Interest," "Law & Order: SVU," "Six Degrees," "The Onion News Network," "Guiding Light" and "As the World Turns."

Prior to UNL, Broulik directed and taught at the University of Albany as a visiting assistant professor and served as affiliate graduate faculty at Virginia Commonwealth University.

• Eph Ehly will be joining the faculty this Fall in the Glenn Korff School of Music as the Earl "Pete" Jenkins Endowed Visiting Choral Artist. His duties will include directing the UNL Chamber Singers, teaching the graduate choral literature and repertoire course and making guest appearances in the graduate choral conducting course.

Ehly is professor emeritus at the Conservatory of Music, University of Missouri-Kansas City, where he taught for 27 years. He is the recipient of the Luther Spade Choral Director of the Year Award and the Amoco Foundation Outstanding Teaching Award. As one of America's most sought-after guest conductors, Ehly has conducted more than 80 all-state choirs, 500 festival choral ensembles and continues to guest conduct in Carnegie Hall in New York City each year. Ehly also has appeared as a clinician and master teacher across North and South America, Asia, and Europe, presenting on more than 100 college and university campuses.

A native of Nebraska, Ehly received his Doctorate of Musical Arts degree from the University of Colorado-Boulder, his Master of Music degree from George Peabody College in Nashville and his Bachelor of Arts degree from the University of Nebraska at Kearney.

• Tom Larson is assistant professor of composition (emerging media and digital arts) in the Glenn Korff School of Music. He will teach classes in music composition (concert, commercial and jazz), music for film, sound recording and digital arts.

Larson has had a long and impressive career in music as a composer/arranger for concerts, film, television, media and commercial jingles. His commissioned work stretches across the United States and to international markets. His work as a composer and jazz pianist gave rise to his appearance with the UNL Faculty Jazz Ensemble in Montreux, Switzerland, last summer. His reputation as an expert recording engineer explained the success of his own recording studios enterprises over many years here in the Midwest. Larson, likewise, is a gifted educator and author. His textbook on rock history is among the most successful his publisher produces.

• Milena Radzikowska is associate professor of art in the Department of Art and Art History. She is joining UNL from Mount Royal University in Calgary, Canada, where she was an association professor in information design for the past 12 years.

Radzikowska has 15 years experience in visual communication design, information design, interface design and interface research. Her research and teaching practice have focused on design strategy, user engagement, user interface design and feminist HCI (Human Computer Interaction). Over the past 10 years, she has worked on more than a dozen projects, including several with budgets over $1 million, both academic and industry-partnered—all focused on interface innovation, particularly in the Digital Humanities and Decision Support.

In addition to her design research work, Radzikowska has more than 50 publications on data visualization, aesthetics, interaction design, interaction theory and design for large-text collections. She is the co-author of a book titled, Visual Interface Design for Digital Cultural Heritage: A Guide to Rich-Prospect Browsing, and has presented at conferences both nationally and internationally. Her passion is creating safer, more inclusive and compelling spaces—both digital and analog. At her core, she is a passionate mentor and community builder.