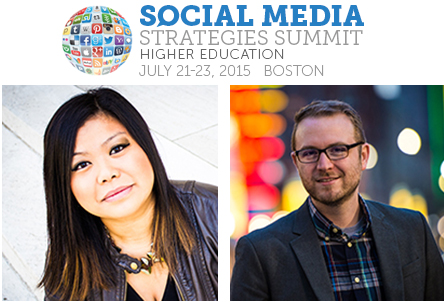 Jemalyn Griffin, Assistant Director of Recruitment for the Hixson-Lied College of Fine and Performing Arts, and Tyler Thomas, UNL's Social Media Specialist, will present at the Social Media Strategies Summit for Higher Education in Boston July 21-23.

Their presentation, titled "Leveraging Social in Recruitment," will focus on the successful targeted social media campaign that used content from students selected for the CAST to demonstrate what life is like in the arts at Nebraska. The Hixson-Lied College has seen significant increases in appplications since the campaign began in the Fall of 2013.

The six featured students each year have a custom profile on the arts.unl.edu website that includes photos and a two-minute video, and they are encouraged to provide social media content, so prospective students can "follow" the students and their activities in the arts throughout the academic year using the hashtag #unlarts.

"Social media is an ever-changing platform that has transformed the way universities recruit prospective students," Griffin said. "Our college utilized social media as a tool to increase awareness among stakeholders and build engagement through an Integrated Media Communications campaign. I am incredibly thankful and excited for an opportunity to represent the University of Nebraska-Lincoln among highly-respected universities across the nation."

Other universities presenting at the conference include Cornell, Princeton, Harvard, Georgetown and the University of Minnesota.

Follow along during the conference on Twitter with the hashtag #SMSsummit.

For more information on the conference, visit http://go.unl.edu/os9t.