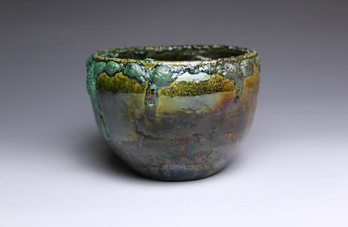 The "Nebraska Young Artist Awards/Statewide High School Invitational" exhibition opened Friday, March 10 and continues through March 24 in Eisentrager-Howard Gallery.

The exhibition is part of the Hixson-Lied College of Fine and Performing Arts' Nebraska Young Artist Awards' visual arts component and is sponsored by the School of Art, Art History & Design.

The winners (see below) of the visual arts component of the Nebraska Young Artist Awards were announced on March 10 at the opening reception for the exhibition.

The Nebraska Young Artist Awards annually recognize Nebraska high school juniors who are talented in art, music, dance, theatre or film and new media. This is the 20th year for the awards.

Schools were invited to nominate one student to participate in the juried visual arts exhibition.

Listed below are the 34 students who are participating in the exhibition (award winners are noted in parenthesis).

Deanna Allen, Lincoln North Star
Emily Anthone, Duchesne Academy (Winner)
Eloy Lopez Banderas, Omaha South Magnet (Winner)
Chloe Barkow, Superior
Dylan Bobbett, Fremont
Madeline Caniglia, Omaha Burke
Therese Chohon, Bishop Neumann
Melanie Dowding, Omaha Central (Winner)
Hailey Ekross, Ainsworth
T.J. (Tyrone) Foster, Creighton Prep (Winner)
Tiffany Hovendick, Milford
Mackenna Hunt, Southern Valley (Winner)
Gannon Ingalls, Shelby-Rising City (Winner)
Makenzi Isaac, Raymond Central
Mary Johnson, Bellevue East (Winner)
Vanessa Klein, Pius X
Emily Knust, Verdigre
Maria Koliopoulos, V.J. and Angela Skutt Catholic
Torrie Long, Roncalli Catholic
Taylor Martin, Waverly
Ty Maxson, Lincoln Southeast
Danielle Meyer, Oakland-Craig
Tara Mueller, Exeter-Milligan
Abigail Ostdiek, Aurora (Winner)
Grace Pisutlka, Wilcox-Hildreth
Ellie Powers, Malcolm
Maia Ramsay, Lincoln High (Winner)
Tyler Rice, Norris
Talia Robertus, Gering
Natalie Rosentrater, Wallace
Paul Smith, Howells-Dodge Consolidated
Sara Wertenberger, Falls City Sacred Heart
Brittany Williams, Cambridge
Ashley Woosley, Holdrege (Winner)

Gallery hours for the exhibition are Monday-Friday, 12:30 to 4:30 p.m. Admission to the gallery is free and open to the public.

Richards Hall is located at Stadium Drive and T sts. on the University of Nebraska–Lincoln city campus.
More details at: http://arts.unl.edu/art/news/nebraska-young-artist-awardsstatewide-high-school-invitational-runs-march-10-24