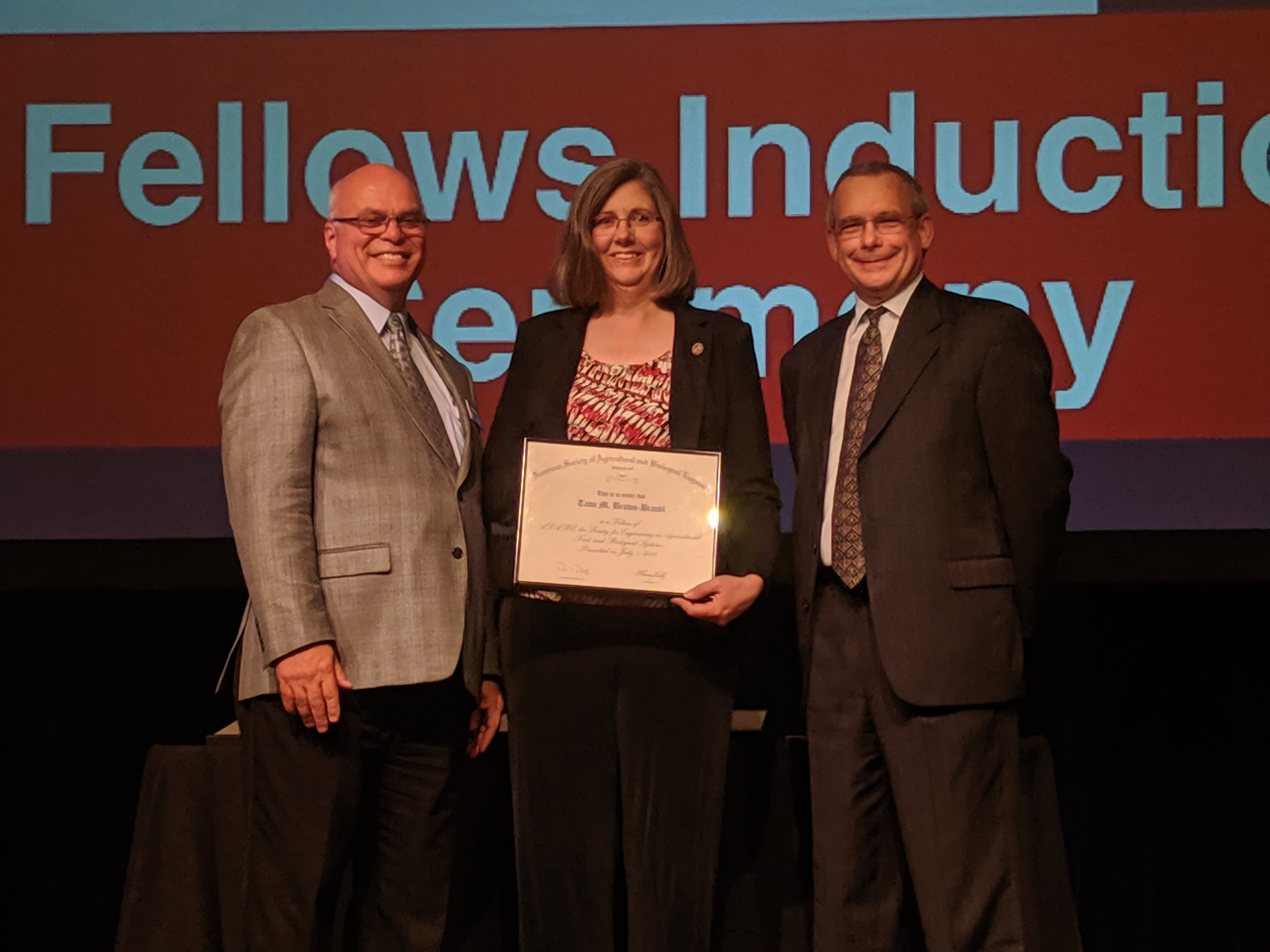 BSE had a successful year at the 2019 ASABE Annual International Meeting, held July 7 through 10, 2019 in Boston, Mass. Students participated in the Fountain Wars and Robotics competitions and gave invited talks and poster presentations. Several faculty won major awards. The Quarter Scale A-Team gave an encore of their award-winning presentation.

The department held its first alumni gathering on Sunday evening prior to the meeting. We enjoyed getting to catch up with our alumni and their families as well as current students and faculty. We hope that everyone will save the date for Saturday, July 11 for an open house of our tractor test lab facility as it celebrates 100 years of tractor testing and Sunday July 12 for our second annual alumni gathering.

If you missed the meeting, events and awards were shared on social media with the hashtag #UNLASABE19.

FACULTY

Tami Brown-Brandl was named to the 2019 class of ASABE Fellows. This award is ASABE's highest honor. The induction ceremony and reception took place on Monday, July 8. Visit the article on Tami's Grade of Fellow induction in this newsletter for the full citation.

Deepak Keshwani is the recipient of the A.W. Farrall Young Educator Award for "contributions to the personal and professional development and advancement of students and engineering and technology curriculum innovation." Honorees were presented with awards during the annual awards luncheon held on Wednesday, July 10. Visit the article on Deepak's award in this newsletter for the full citation.

Editors and Reviewers Recognized for Outstanding Contributions for 2019
Reviewers and editors protect the high quality of ASABE's peer-reviewed journals through their time and efforts. Reviewers evaluate manuscripts and make suggestions for improvements. Associate editors work with reviewers, authors, and editors during the peer review process.

Yufeng Ge and John Gilley were recognized as Outstanding Reviewers for 2018. The reviewer recognition program honors up to 11 outstanding reviewers each year. The program was developed by the ASABE refereed publications committee. Over 900 reviewers participated during the 2018 publication year. Associate editors ranked reviewer timeliness and review quality, and then each technical community selected reviewers based on the number of manuscripts reviewed.

Mark Wilkins was recognized as an Outstanding Associate Editor. The associate editor recognition program honors up to six outstanding associate editors each year. The program was developed by the ASABE refereed publications committee. First, editors of individual technical communities submitted nominees to the selection committee, and then the selection committee added community editors' justifications for nominees to select final award recipients. Editors are judged based on the criteria of workload, timeliness, and review quality for the previous three years. Six final Outstanding Associate Editors are selected from more than 140 associate editors.

Tami Brown-Brandl received a 2019 ASABE Journals Superior Paper Award in the Plant, Animal, & Facility Systems division. Her paper, "Dimensions of the Modern Pig," was published in Transactions of the ASABE 61(5). Papers published within ASABE's three peer-reviewed journals during 2018 are eligible for 2019 superior paper awards. Up to 5% of the papers published by each technical community can be selected for awards based on article timeliness, fundamental value, originality, benefits to society, and quality of writing. Winners receive a certificate.

STUDENTS

The BSE 1/4 Scale Tractor Team was named the Overall Winner of this year's ASABE International 1/4 Scale Tractor Student Design Competition. X-Team was also named second place overall. For more details on the competition, read "BSE Quarter Scale team takes home first place in annual competition."

ALUMNI

Hongda Chen was named to the 2019 class of ASABE Fellows. Hongda is an alumni and member of the BSE Hall of Fame. This award is ASABE's highest honor. Hongda was selected for his "outstanding leadership in advancing nanoscale science and food manufacturing technology for agriculture and food systems in research, education, and outreach."

Yanbin Li is the recipient of the 2019 International Food Engineering Award. Yanbin is an alumnus. The award recognizes food engineering professionals internationally who have made significant engineering contributions in research, development or design of food processes significant to the food industry as well as in outstanding leadership, management or education to advance the food engineering profession. Yanbin is recognized for his "outstanding contributions to the development of novel biosensing and biomodeling technologies for improving food safety."

David Murray was named to the 2019 class of ASABE Fellows. David is a member of the BSE Advisory Board. This award is ASABE's highest honor. David was selected for his "dedication to the agricultural engineering profession and creating a safer work environment for agricultural machinery operators and those nearby."