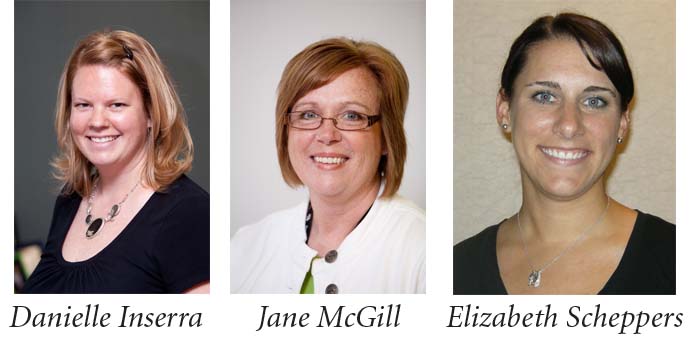 Once a month, Papillion-La Vista building math coaches and Primarily Math participants Danielle Inserra, Jane McGill and Elizabeth Scheppers present math topics to 14 of their district's administrators, among others.

The three of them started these presentations in May, beginning by asking principals for topics with the help of Director of Elementary Curriculum Deb Rodenburg. The principals then ranked them in order of preference.

"The idea was to increase principals' knowledge, and then they could take the same training to their staff. This way, the training would be consistent across all schools and those without coaches in their buildings," Inserra said. "Feedback from the principals has been overwhelmingly positive."

Lisa Wood, principal at La Vista West Elementary, said, "As a principal, I appreciate the background and understanding it gives me for what I need to be looking for when I go into a classroom. I also appreciate their willingness to coach the staff and improve on these strategies. It gets us all on the same page, and then I when I go in, I can help the staff in reaching those goals."

The trio present as a team, going over articles and videos and preparing PowerPoint presentations. Some topics they have discussed have been: Basic Math Facts, Homework (how it can be difficult for parents so they need to keep what goes home consistent), Questioning (how to get to a deeper level) and Calendar Math.

Often they present a topic along with a video of a teacher modeling the lesson in their classroom. Then, the principals watch the video and talk about their observations. In other scenarios, the principals, who all have iPads, videotape a teacher in their building and bring the video to the meeting for critique in small groups.

Inserra, McGill and Scheppers rotate through each small group and give more feedback to those without a math coach in their building. Often, one of the three of them sits down with a principal one-on-one and views the video together, taking extensive notes and explaining what they see as a coach.

"Teachers are being videotaped more and more to help administrators see more of the classroom teachings," Jane McGill said. "Building math coaches are being encouraged to use this same process to help their teachers."

"These topics and lessons are easily adaptable to anyone that would want to present them," Scheppers added.