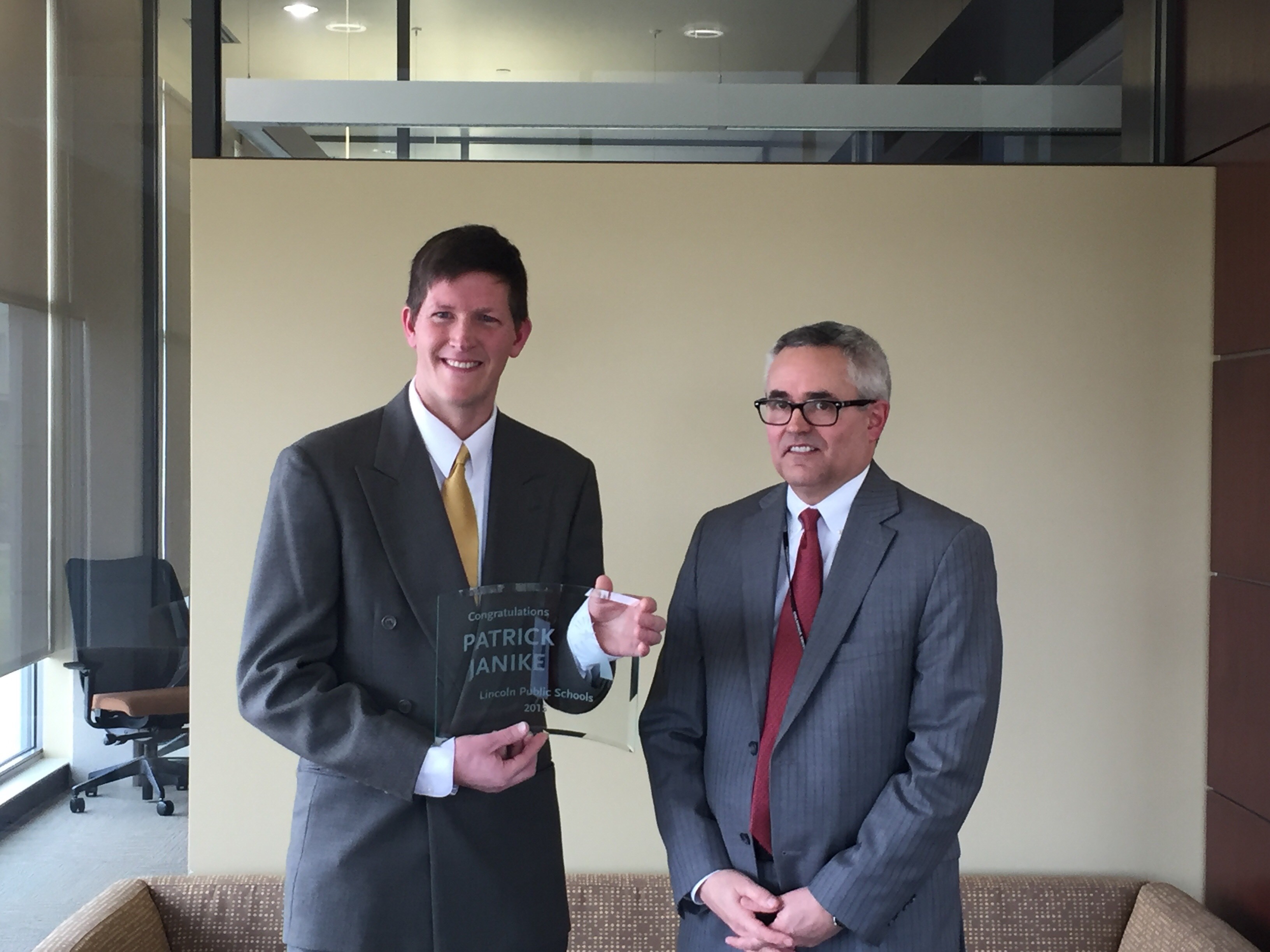 Congratulations to Noyce Master Teaching Fellow Patrick Janike of Lincoln High School on becoming a nationally certified teacher in the 2015 cycle. Lincoln Public Schools hosted a celebration for Janike on March 22, 2016.

Nine Nebraska middle and high school mathematics teachers who are NSF Robert Noyce Master Teaching Fellows through the University of Nebraska-Lincoln have earned National Professional Board Certification since becoming a MTF, seven during the 2013 application cycle and then the additions of Sherry West in 2014 and Janike in 2015.

Six of Nebraska's nine active Board-certified teachers in mathematics/adolescence young adulthood and five of the 11 in mathematics/early adolescence are MTFs. Three Nebraska teachers earned certification in any subject in 2015, bringing the total number of teachers in the state with board certification to 118.

The nine MTFs who became Board-certified mathematics teachers during the Noyce program are:

Shelby Aaberg, Scottsbluff High School, Scottsbluff Public Schools

Danielle Buhrman, Grand Island Senior High School, Grand Island Public Schools

Alicia Davis, Scott Middle School, Lincoln Public Schools

Katie Garcia, Bryan High School, Omaha Public Schools

Pat Janike, Lincoln High School, Lincoln Public Schools

Jill Luschen, Alice Buffett Magnet Middle School, Omaha Public Schools

Dan Schaben, Arapahoe Public School

Katie Soto, Westridge Middle School, Grand Island Public Schools

Sherry West, Lincoln Southeast High School, Lincoln Public Schools

These nine teachers join two of their Noyce colleagues who had received this honor previously: LPS math coach Darla Berks and OPS McMillan Magnet Middle School math department head Connie Colton.

In 2015, 1,826 teachers achieved National Board Certification, bringing the total number of National Board Certified Teachers (NBCTs) nationwide to more than 106,000. The national pass rate of applicants to receive board certification is around 40 percent.

These accomplished teachers are at the vanguard of excellence and impact in teaching today. Nationally, the number of teachers who have achieved National Board Certification is equivalent to approximately 3 percent of the teaching force. Almost half of the nation's NBCTs teach in high-need schools and 15 percent are certified in STEM-related areas. Research shows that students taught by Board-certified teachers consistently achieve higher gains in student achievement compared to peers who are not taught by Board-certified teachers, making learning gains equivalent to an extra one to two months in school.

The National Board seeks to elevate the status, voice and role of accomplished teachers in strengthening the teaching profession. NBCTs are leading the way to improved teaching and learning through effective classroom practices, standards-based instruction and a focus on student achievement.