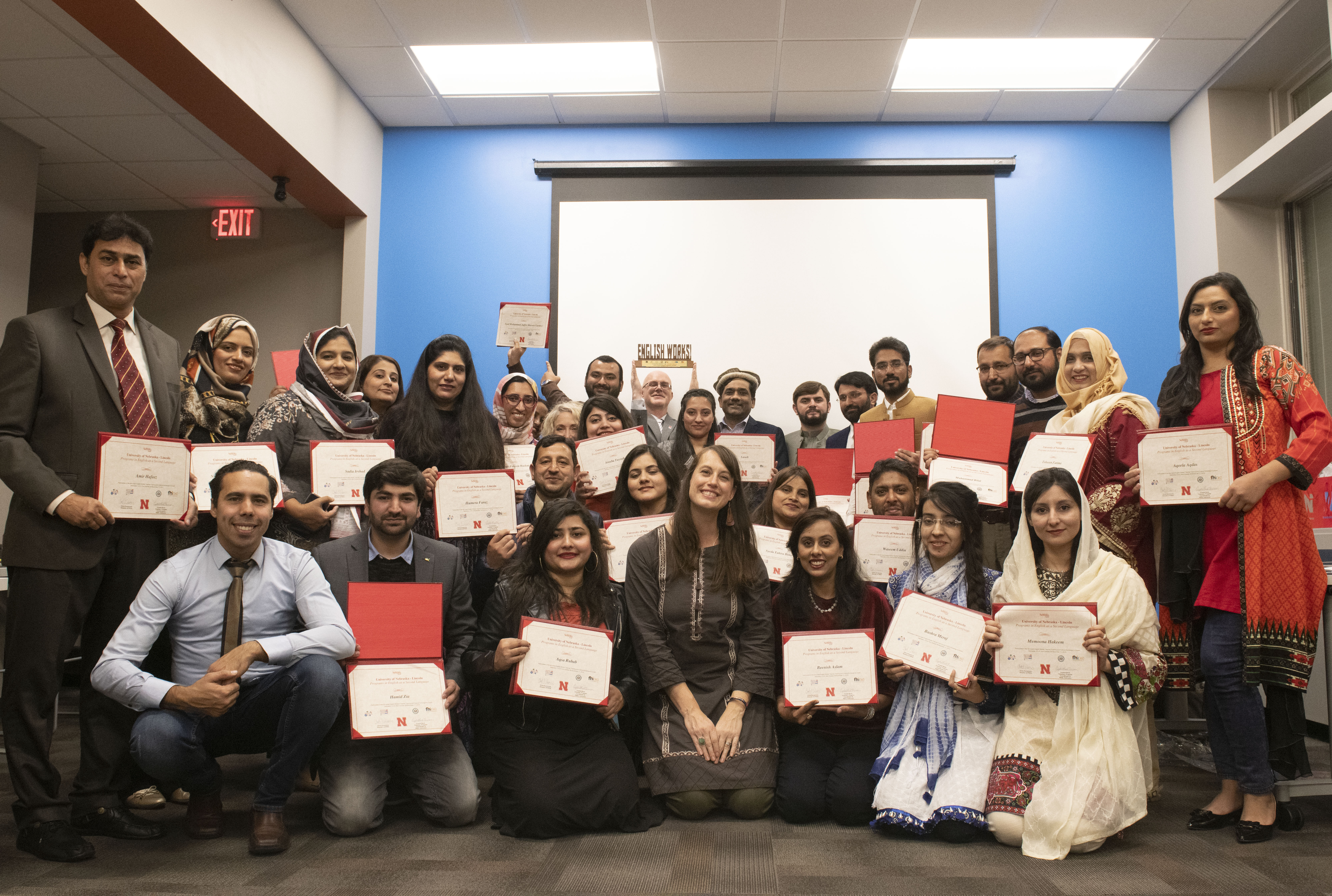 By Crystal Bock Thiessen, with assistance from Juliee Crocker and Courtney Van Hoosen | Programs in English as a Second Language

The impact of Nebraska faculty and staff can be felt around the world, even thousands of miles away. This October and November, Nebraska played host to 25 scholars from Pakistan through the U.S. Department of State's English Works! Program.

When Programs in English as a Second Language (PIESL) lecturer Crystal Bock Thiessen traveled to Pakistan in February, she was excited to conduct training for 50 English language instructors from across Pakistan. Bock Thiessen enjoyed connecting with the instructors despite the program's short one-week schedule. However, the Regional English Language Office (RELO) at the U.S. Embassy Islamabad saw an opportunity to continue the training at the University of Nebraska-Lincoln.

From October 28 to November 11, PIESL hosted 25 scholars from the English Works! Program with support from the U.S. Department of State, nonprofit organization FHI 360, and Nebraska's Teaching, Language and Teacher Education (TLTE) department. English Works! is a six-month English teaching and professional development course designed for underserved Pakistanis between the ages of 17 and 25 years. Currently, there are 11 programs running for 1,100 students at various locations in Pakistan.

"This group was especially meaningful for me to host as I was able to spend a week getting to know them in their own country last spring," Bock Thiessen said. "It was exciting to have the chance to bring them to Nebraska and reciprocate the amazing Pakistani hospitality I received with that of the Midwest here in the United States."

Under the leadership of PIESL Director Chris Dunsmore and program coordination from Bock Thiessen, the Pakistani scholars had multiple opportunities to study and share with the Nebraska community. In collaboration with UNL's TLTE department, the scholars had a chance to learn how to use Google Tour Builder and social media platforms in their language classrooms, as well as how to teach literature through slam poetry.

Scholar Memoona Hakeem found the program to be extremely beneficial to pass along to her students in Pakistan. "I would say that this was one of the best [opportunities] of my life… I am a dedicated teacher and this experience will become the experience of my students and will help them in the real sense."

The visitors, most of whom are accomplished scholars in Pakistan, participated in the "Connecting Teachers, Innovating Learning" Symposium with their American colleagues from TLTE and PIESL. Across campus, the Pakistanis also experienced an international marketing class and a Clifton Strengths workshop at the College of Business, learning more about how future entrepreneurs and business students are supported.

In addition to the academic programming, Bock Thiessen included a variety of cultural activities for the Pakistanis to introduce them to American and Nebraskan culture. During their stay, the visitors experienced Halloween at UNL, visited the Nebraska State Capitol, had dinner in the homes of local families, and even made it to the world-famous Henry Doorly Zoo in Omaha. Pakistani scholar Anum Hashmi was particularly impressed by the local dinner and Husker football watch party.

"This trip was a fully packed cultural exchange program where we got a lot of chances and opportunities to get to know Americans and learn about their views and perceptions. The community dinner and football party and every other interaction was meaningful and gave us a chance to showcase our culture as well," said Hashmi.

Beyond their programming at UNL, the exchange participants also visited several local businesses and organizations—including Lincoln Northeast High School, Hudl, Archrival, One Million Cups, The Bay and Turbine Flats—to understand more about working with underserved populations and teaching them for 21st century skills in the workforce.

"This exchange program was a full-fledged plan of learning which not only limited our learning within the campus boundaries but also extended them off-campus. Walking outside the campus, meeting local people, and observing different aspects of life provided us opportunity to learn something new," said visitor Aqueela Aqdas.

In the true spirit of exchange, the Pakistani group also had a chance to share more about their home and diverse backgrounds at the community reception, "An Evening in Pakistan." The reception was hosted in conjunction with the Lincoln Council for International Visitors, providing a unique opportunity for Lincolnites to learn more about Pakistan and its culture.

"After my two weeks stay in Lincoln, Nebraska most of my feelings of hesitation towards Americans were reversed," Pakistani visitor Rohmeena commented. "To our surprise, we found American people extremely cooperative and friendly. We were given [a] home-like environment, we felt comfortable sharing our problems and queries, if any. They made sure to provide help and assistance to us in every regard."

Though the time flew by, PIESL and the UNL community are grateful to count the scholars as friends of Nebraska, and look forward to welcoming them back to campus in the future.

PIESL would like to express its sincere gratitude to the professors, departments, community members, businesses and organizations who shared their time with this Pakistani group to ensure their visit was meaningful and culturally informative. To learn more about the customized programs PIESL offers, visit http://www.unl.edu/piesl/customized-programs.