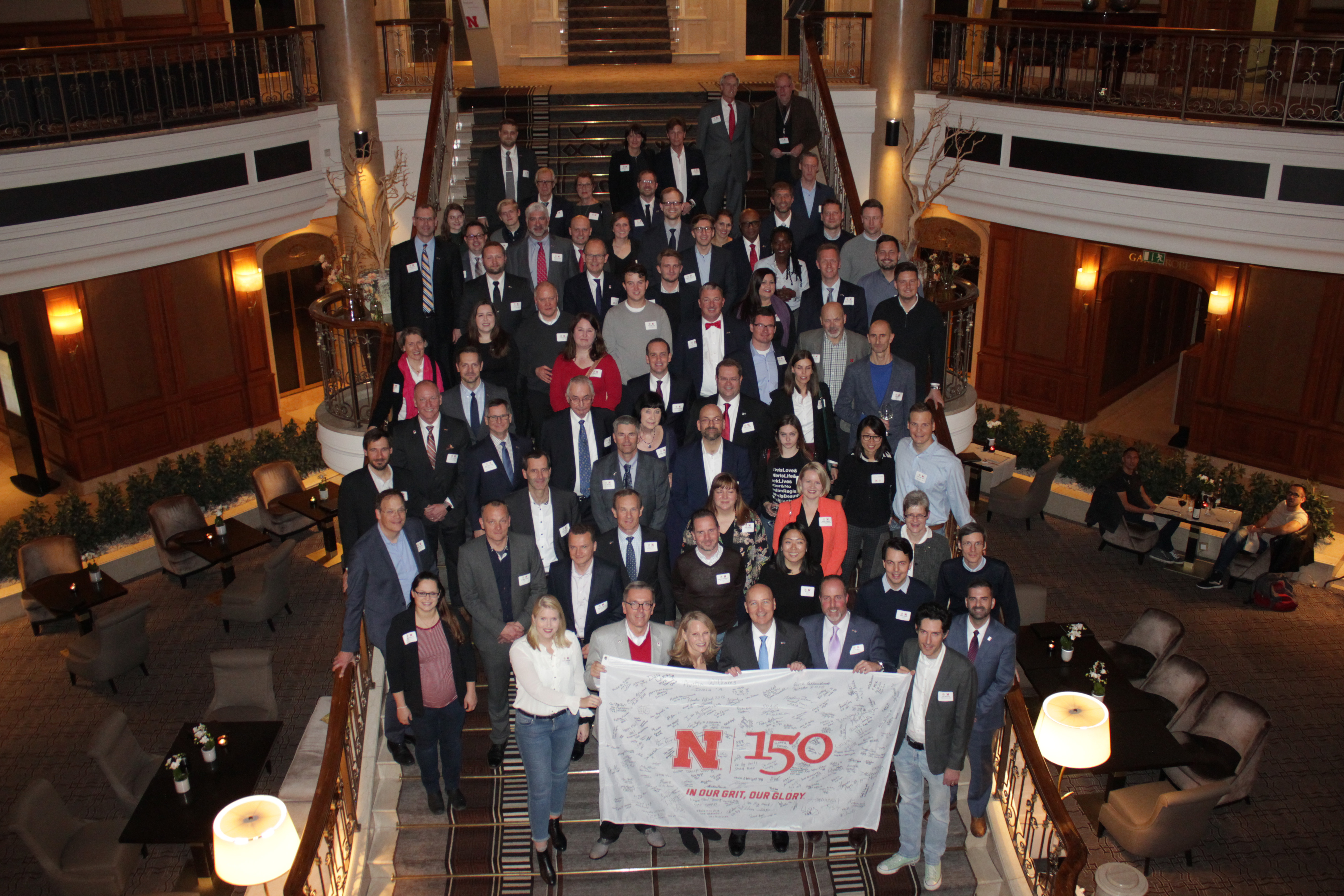 By Courtney Van Hoosen | Office of Global Strategies

The University of Nebraska-Lincoln network extends across the world, with more than 200,000 living alumni in the Husker family. On November 11, Chancellor Ronnie Green hosted an alumni and friends reception with Governor Ricketts in Berlin, Germany.

The "Friends of Nebraska and Alumni" reception, coordinated by UNL's Office of Global Strategies and the Nebraska Department of Economic Development (DED), was hosted during the Governor's final 2019 trade mission to Germany. "Friends of Nebraska" is a joint collaboration between the University and DED to reconnect with alumni, business partners and those with a connection to Nebraska who live abroad for the purpose of such trade missions and overseas events.

"This is our 150th anniversary year of the founding of the University of Nebraska," Chancellor Green said during his opening remarks at the reception. "[I]t's been exciting to think about the impact that university, our university has had [around the world] for 15 decades."

More than 75 alumni, business partners, Nebraska natives and delegation members attended the reception hosted at The Westin Grand Berlin hotel. After opening remarks from Chancellor Green, Governor Ricketts and Associate Vice Chancellor for Global Affairs, Josh Davis, the attendees had a chance to mingle and get to know each other over shared experiences from Nebraska.

The University of Nebraska-Lincoln hosted two similar friends and alumni receptions during the Governor's trade missions to Hanoi, Vietnam and Tokyo, Japan. With support from the Nebraska Alumni Association, the Office of Global Strategies has connected with more than 175 Nebraska alumni and state supporters this fall.

In addition to the alumni reception, University representatives supported the trade mission by attending meetings with government officials, businesses and the large agricultural exhibition Agritechnica. Chancellor Green and Associate Vice Chancellor Davis also visited one of UNL's longest partner institutions, the University of Hannover. Katia Duszenko, International Recruitment Specialist in the Office of Admissions who helped coordinate the alumni reception in Berlin, also met with EducationUSA to discuss options for students at UNL.

"It was great to meet with our partners at the University of Hannover, who we've been working with for more than 35 years," AVC Davis said. "Through this partnership and other university relationships, as well as research collaborations across Germany, UNL continues to support the global reputation and economic development of the state of Nebraska as a whole."

As the University looks ahead to a new decade and achieving the N150 charge to become a world-leading 21st century Land Grant University without walls, the Office of Global Strategies is excited to continue supporting global engagement efforts with alumni, businesses and research partners.

Learn more about the University of Nebraska-Lincoln's global engagement efforts on the Office of Global Strategies website.