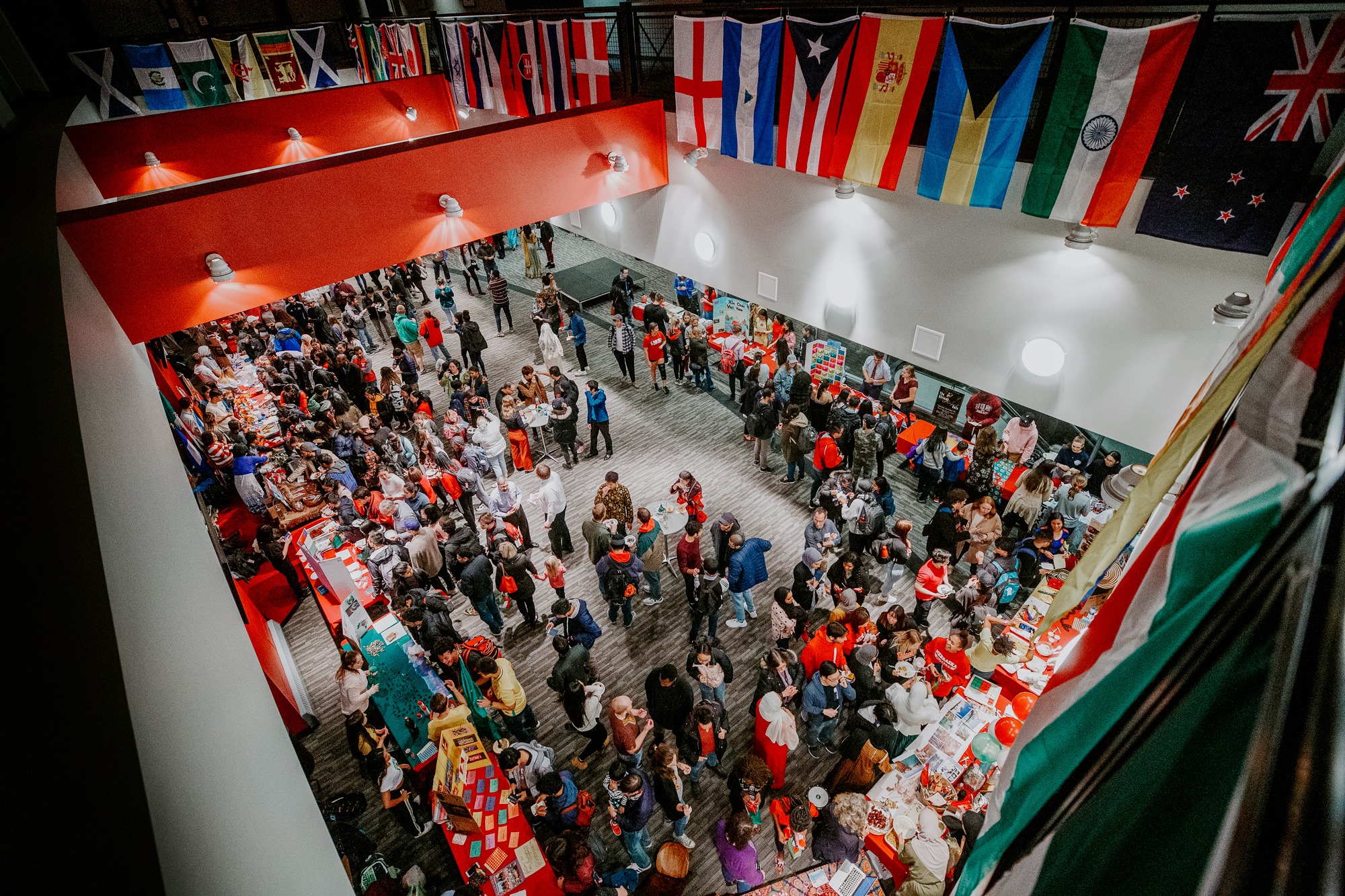 By Nakell Baker, with assistance from Courtney Van Hoosen | International Student & Scholar Office

More than 500 students, faculty, staff and community members attended the first-ever Global Huskers Festival, led by the International Student and Scholar Office (ISSO) in collaboration with other campus partners during International Education Week (IEW) on November 19.

The Festival was ISSO's signature event in its week of activities to celebrate IEW between November 18 and November 22. From 6:00 to 9:00 p.m. at Memorial Stadium, university and community members had the chance to experience more than 14 unique cultures in a celebration of the rich diversity present at UNL.

Attendees visited cultural booths hosted by students and student organizations, sampled various foods from around the world, saw an international clothing fashion show and experienced a wide range of performances from traditional dances to spoken word artist Lemon Anderson. Organized in partnership with Athletics Life Skills and Enrichment, Student Involvement and Residence Life, the event was a huge success in its first iteration.

Check out some of the highlights from the Global Huskers Festival here.

In addition to the Global Huskers Festival, ISSO also coordinated additional events during IEW to recognize the value and contributions international student and scholars bring to UNL. Early Monday morning, ISSO created a week-long flag display in the Union greenspace with flags from over 115 countries to represent the home countries of Nebraska's more than 3,000 international students and scholars. Also on November 18, ISSO hosted a Global Tea Party and IEW Kick Off in partnership with Student Involvement and the Kawasaki Reading Room. 85 participants had the chance to sample teas from different countries and listen to traditional music from various cultures.

The morning of the Global Huskers Festival on November 19, ISSO hosted a Fulbright Breakfast with current international Fulbright students at UNL. The students had the opportunity to network with each other, their faculty advisors and other staff members from across campus. ISSO's final event on November 21, the annual International Scholar Reception, was also a huge hit. 35 scholars comprised of staff members, professors and researchers across campus came together to network with each other and share more about their work at Nebraska.

Other events hosted by ISSO for November and December included International Night at the November 14 Husker Women's Basketball game against Morgan State, where students had a chance to participate in a special halftime show; a shopping trip over Thanksgiving break to the Gretna Nebraska Crossing Outlet Mall with University Housing; and the Signatures and Snacks event on December 5 for international students traveling out of the country over winter break to have their documents signed. Throughout both months, ISSO also coordinated the annual Dinner in a Nebraska Home event where international students are matched with UNL faculty and staff, who then host the students for dinner in their own home.

ISSO organizes various academic, social and cultural programming for international students and scholars hosted at UNL. To see a full list of events, visit the ISSO website.