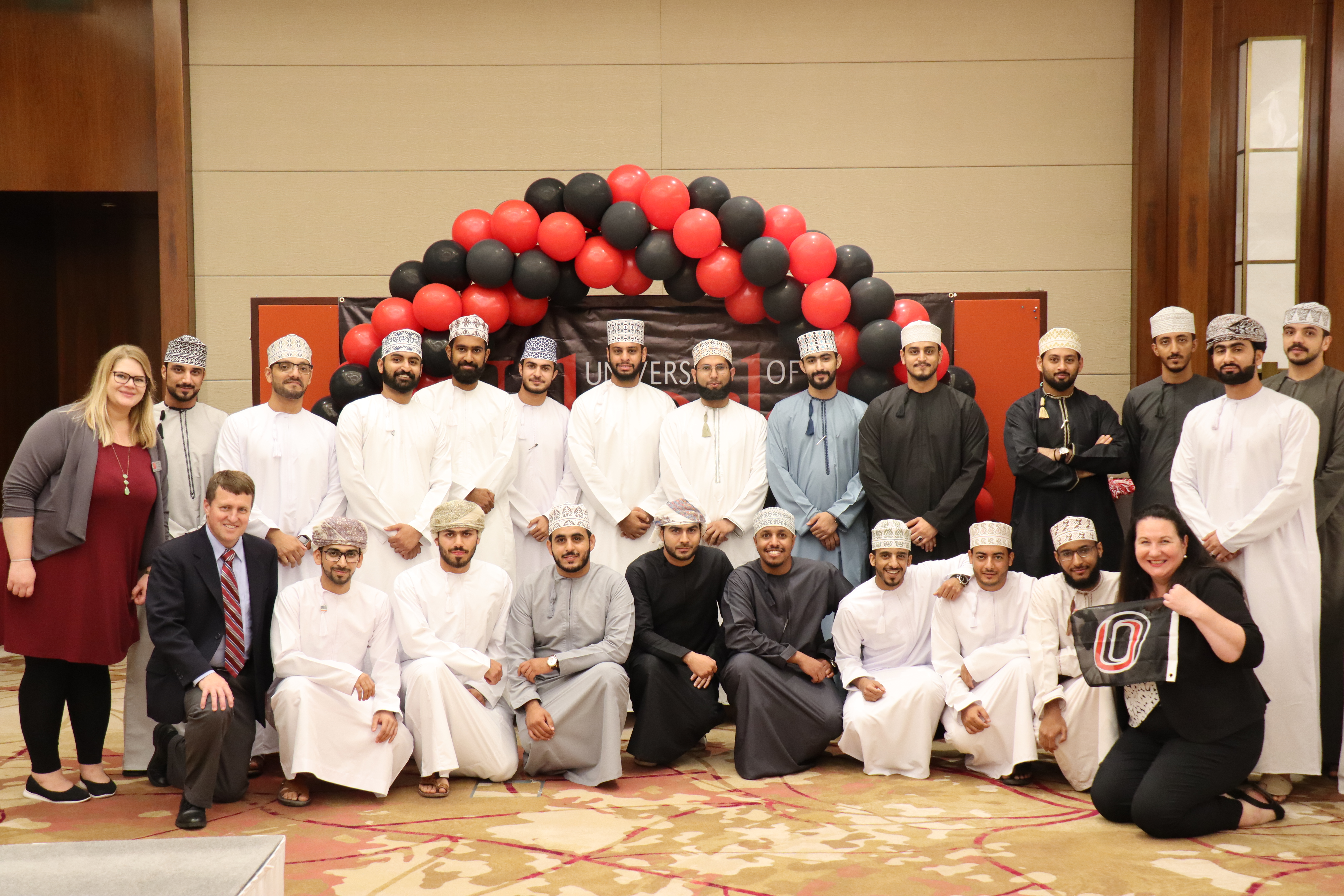 The University of Nebraska-Lincoln has continued to expand its partnerships and student engagement in the Middle East and North Africa region over the past several years, from university collaborations to sponsored student programs.

In late October, staff from the Office of Global Strategies and the Office of Admissions traveled to Cairo, Egypt and Muscat, Oman to visit partners and engage with students—new, prospective and alumni. Erika Hepburn, Assistant Director of Global Strategies, and Jackson Wu-Pong, Assistant Director for International Admissions, participated in various recruitment fairs across the MENA region, visited high schools, engaged with alumni, and met with partners.

"Oman and the MENA region as a whole have been a key area of focus for Nebraska. We are eager to expand upon the longstanding partnerships we have established and to engage with our growing alumni base," Hepburn said. "These in-person interactions with our partners, alumni, and potential students are crucial to strengthening our ties to the region, supporting our alumni, and expanding our recruitment efforts."

In Egypt, Hepburn has played a key role in building partnerships between the AMIDEAST and EducationUSA offices. Since 2016, AMIDEAST has regularly sent students to Nebraska for one-semester exchange programs as part of USAID's Higher Education Initiative. The October trip was a chance to meet longtime colleagues in person after years of virtual collaboration.

Exciting conversations about future opportunities occurred with both partners, and Hepburn is eager to collaborate with EducationUSA on developing a series of webinars for potential students that highlights the benefits of attending public research institutions like Nebraska. At the same time, Wu-Pong participated in two college fairs at the American International School and Cairo American College.

"It was great to meet students from all over Cairo, and particularly the delegation from the STEM School," Wu-Pong said.

After a successful trip to Cairo, Hepburn and Wu-Pong transitioned to Muscat, Oman. Nebraska has partnered with the Omani Ministry of Higher Education and various institutions in Oman for nearly a decade. UNL is host to nearly 200 Omani students attending UNL for their undergraduate degrees as part of a special scholarship through the Ministry of Higher Education since 2011.

On October 26, the Office of Global Strategies collaborated with the University of Nebraska at Omaha to host a welcome reception for incoming Omani students starting at Nebraska in January 2020. Nearly 40 students attended, many of whom were accompanied by their parents, eager to learn more about Nebraska and take photos at the University of Nebraska photobooth.

The students and their parents were welcomed by Steve Duke, NU's Associate Vice President for Global Strategy and International Initiatives, along with Hepburn, Wu-Pong, and Asta Reiff, International Recruiter and Senior ESL Specialist at UNO. At the reception, UNL alumnus Sami Al-Masrouri led a question and answer session in Arabic about studying in Nebraska. The session was lively and full of questions from students and parents—many of whom had never seen snow before or traveled so far outside of Oman.

After the welcome reception, Hepburn and Reiff continued their collaboration by hosting a joint UNL and UNO Alumni Reception, the second-ever reception hosted in Oman. Almost 50 Nebraska alumni gathered to pay tribute to their alma mater and reconnect with old friends.

The final days in Oman concluded at the EduTrac Recruitment fair, where Wu-Pong and Hepburn connected with hundreds of prospective students. UNL alumnus Al-Masrouri also joined for the fair, promoting UNL programs in Arabic.

"I always look forward to visiting Muscat because of the legendary Omani hospitality and the high quality of students seeking education. Nebraska has a long history of collaboration and connection to Oman, and I'm honored to play a small part," said Wu-Pong.

2019 marks the fifth year that Hepburn has traveled to Oman for the fair and partner visits. After an exciting and productive trip this October, the Office of Global Strategies team is hopeful that Nebraska's momentum in the MENA region will continue to grow.