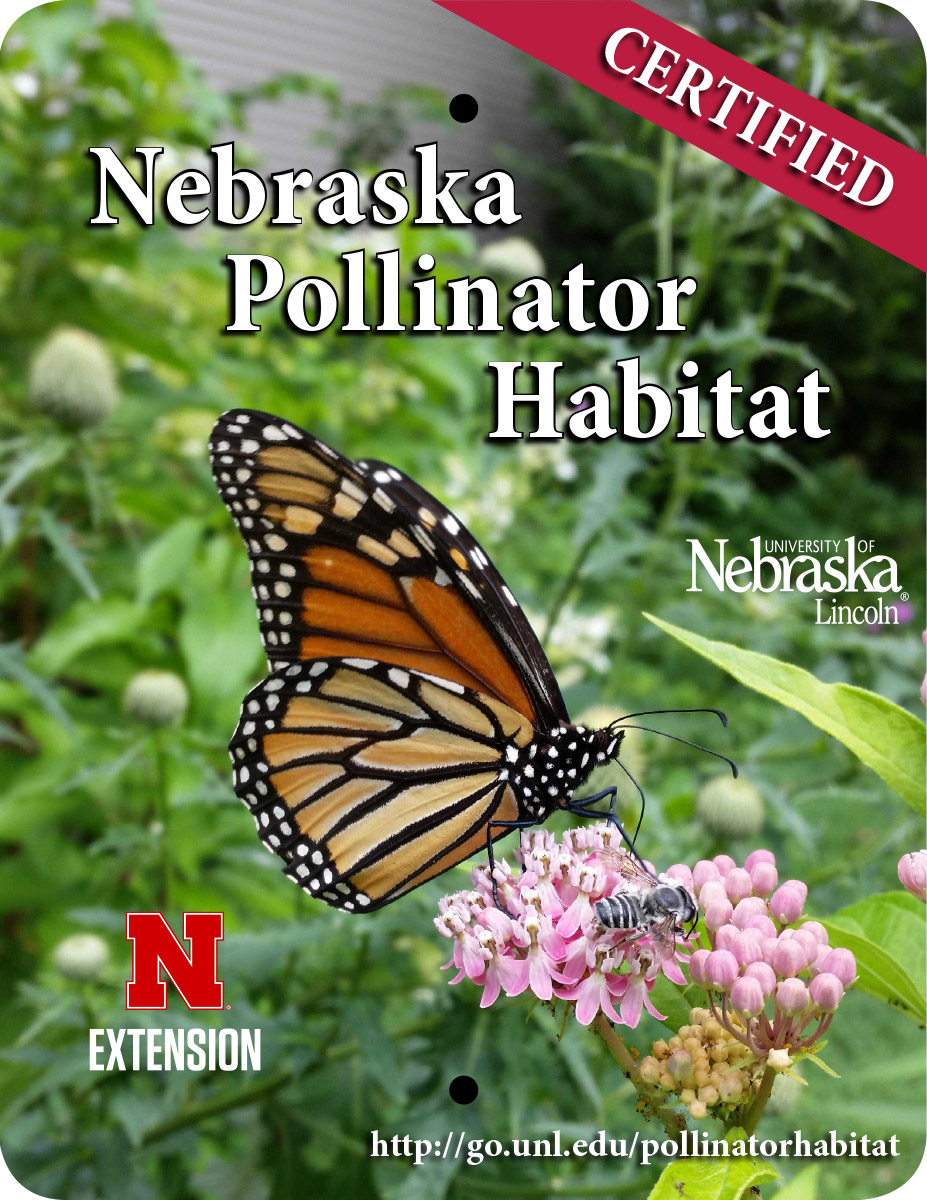 By Mary Jane Frogge, Extension Associate

Do you love gardening and want to help pollinators? Consider developing your landscape into a pollinator habitat. In 2016, four Nebraska Extension horticulture professionals, Natalia Bjorklund, Kathleen Cue, Scott Evans and Mary Jane Frogge launched a new program called Nebraska Pollinator Habitat Certification. This program gives Nebraskans an opportunity to certify their garden and promote pollinators in their community. Sixty-one locations have been certified across the state of Nebraska. Certified habitat members will receive a program newsletter twice a year and have the option to purchase a sign to display in their habitat.

WHAT YOU NEED TO CERTIFY
To certify their habitat, gardeners need to provide spring, summer and fall blooming plants that support pollinator needs, a water source, shelter, nesting sites and restrict pesticide use. Gardeners will be asked to make a commitment to protect pollinators and provide a diverse plant community that will result in a pollinator habitat.

COMMITMENT TO PLANT DIVERSITY
Make the commitment to protect pollinators by providing a diversity of plant material essential to providing both nectar and pollen to support a healthy ecosystem. Use plants that provide pollen and nectar sources from early spring to late fall, provide a diversity of plants, flower shapes and flower sizes, choose older cultivars and heirloom varieties of annuals and limit newer introductions.

Incorporate pollinator-friendly native plants into the garden and place plants in masses (three or more) to attract pollinators. It is important to provide plants that are a food source for butterfly and moth caterpillars. Herbs like parsley and dill are a good food source for swallowtail caterpillars, while monarch caterpillars only eat milkweed.

WHAT POLLINATORS NEED
Pollinators need water, shelter and nesting areas. Ponds, bird baths and outdoor water dishes are excellent water sources for pollinators. Be sure to add landing locations such as rocks in the water source so bees do not drown when they come to drink. You can purchase bee nesting houses or make your own bee nesting structure or insect hotels. Insect hotels provide nesting areas and shelter for overwintering pollinators and beneficial insects.

CONSERVATION PRACTICES
Implement conservation practices to protect and support pollinators by reducing lawn areas and maintain a layer of organic mulch over tree roots, shrubs and plant beds. Provide spaces of bare ground for ground-nesting bees and leave garden clean up until spring. Cavity nesting bees can nest in ornamental grasses and hollow plant stems.

Plant groundcovers or use mulch on thinly vegetated areas to decrease erosion, avoid chemical pesticides, herbicides or insecticides where possible, use a rain barrel or other means of capturing or utilizing rainwater to irrigate plants and water plants only when necessary.

WHO CAN APPLY
This program is open to Nebraska homeowners, schools, businesses, parks, homeowner associations, farmers, acreage owners and community gardens.


FOR MORE INFORMATION
The Nebraska Pollinator Habitat Certification application form with complete requirements is available at the Extension office and http://go.unl.edu/pollinatorhabitat.