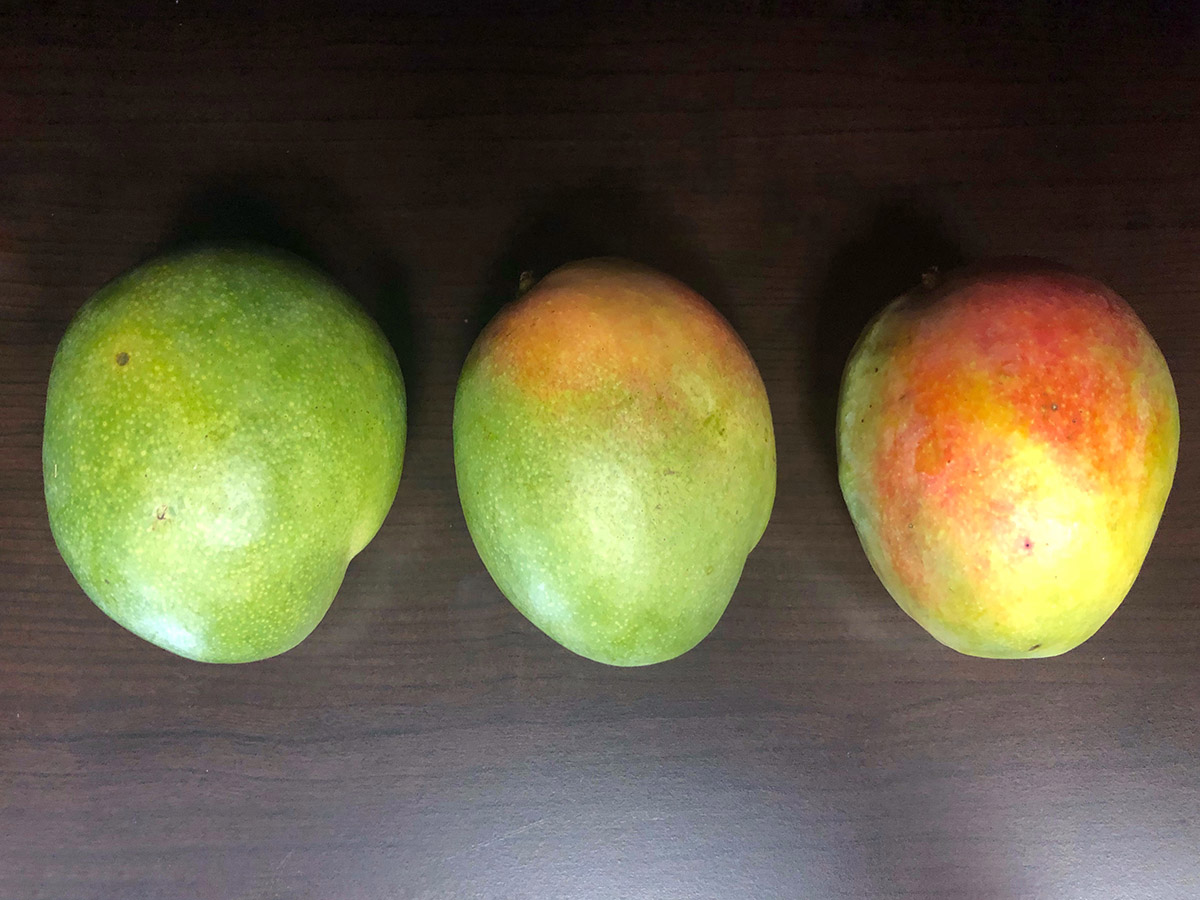 By Kayla Colgrove, MS, RDN, ACSM-CPT, Extension Educator

June is National Fresh Fruit & Vegetables Month and the best way to celebrate is to enjoy one of the most popular fruits in the world, mangos. Luckily, mangos are available to buy in the Midwest. They can be a little intimidating if you have never bought a fresh mango. Learning how to choose and cut a mango will help you become a mango pro while enjoying a variety of ways to eat them.

HOW TO CHOOSE A MANGO
When choosing mangos, don't judge a mango's ripeness by its color. Color is not the best indicator. The best way to know if mangos are ripe is by feeling them. Gently squeeze the mango. If it is slightly soft, then it is ready to eat. If it is firm, it is not ripe and needs to ripen at room temperature similar to avocados.

You can speed up the ripening process by placing a mango in a brown paper bag, close the bag and let it sit at room temperature for two days. Storing mangos in the refrigerator will slow down the ripening process, if you are not able to eat it right away.

HOW TO CUT A MANGO
Have you ever tried cutting a mango? It can be a little tricky. Follow these steps to easily cut a mango into dices while avoiding the long, flat seed in the center:
1. Wash mango under cool, running tap water.
2. Cut a small piece off at the bottom to make a stable base. Place the mango upright on the base.
3. Slice the sides off the mango by cutting 1/4 inch from the stem on both sides. The mango seed is long and flat, so you may need to reposition your knife if you hit the seed.
4. Cut parallel slices into the mango flesh without going through the skin.
5. Make a checkerboard pattern.
6. Use a spoon to scoop mango dices out.
7. Repeat with other side and enjoy!

Check out this video to learn more about cutting mangos at https://go.unl.edu/mangovideo.

EATING MANGOS
You can eat mangos plain or enjoy them in salsas, smoothies, parfaits, salads or chutneys. I like to use fresh mangos in the summer and fall when they are in season. In the winter and spring, I use canned diced mangos. One of my favorite mango recipes is Mango Tango Black Bean Salsa (see Recipe of the Month). Try it at home today!

Reference: The National Mango Board. Promo Ideas and Marketing Messages at http://www.mango.org/professionals/retail/promo-ideas-marketing-messages.