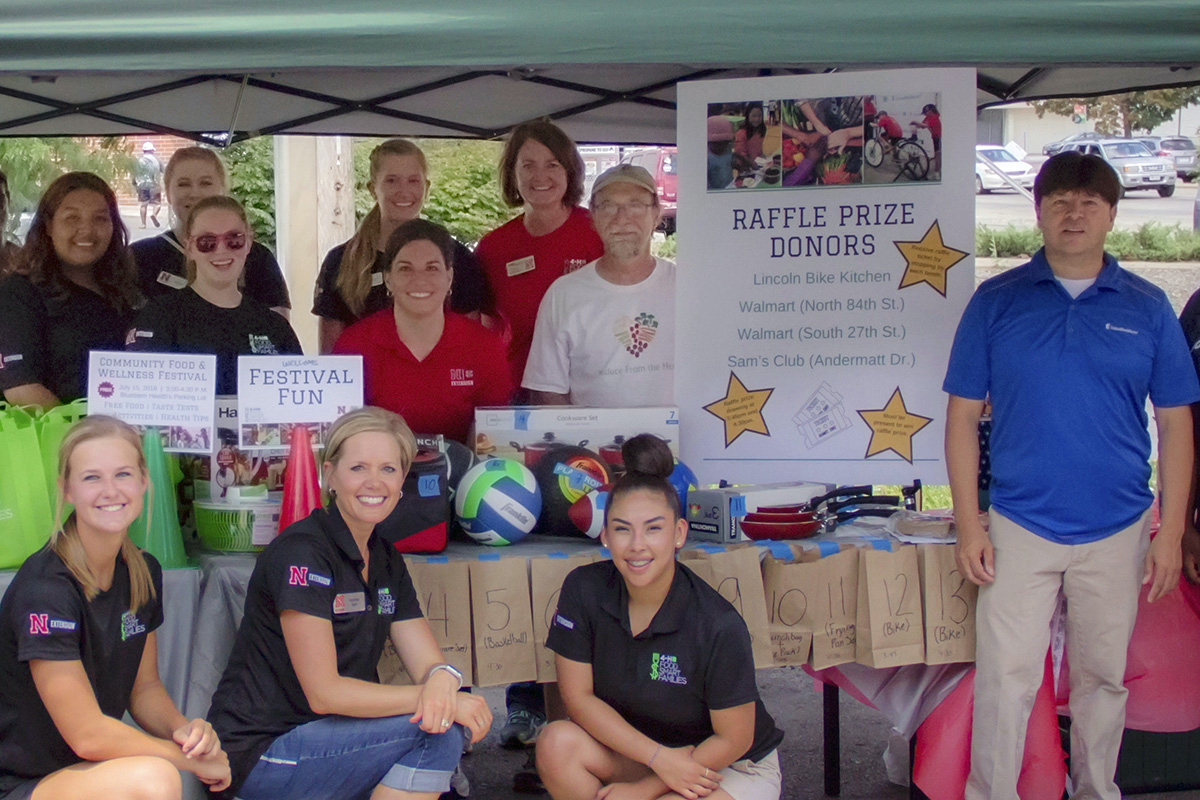 BY Kayla Colgrove, MS, RDN, ACSM-CPT, Extension Educator

Nebraska Extension staff, 4-H teen ambassadors and Produce From the Heart organized the Community Food & Wellness Festival on Sunday, July 15 at Bluestem Health in Lincoln as part of the 4-H Food Smart Families (FSF) grant. Over 100 people attended the festival and learned skills to eat healthier today and tomorrow. The support of many community partners was extremely important in the success of the event.

FOOD SMART FAMILIES GRANT
The 4-H FSF grant sponsored by National 4-H Council and UnitedHealthcare, equips youth and their families to make healthy living part of their everyday lives through nutrition education, cooking skills and food budgeting skills. Kayla Colgrove, Natalie Sehi, Tracy Anderson and Carrie Schneider-Miller are leading this grant in Lancaster, Douglas-Sarpy, Hall and Lincoln counties in Nebraska from June 2017 through May 2019.

COMMUNITY FOOD & WELLNESS FESTIVAL
The festival was an expanded FoodNet distribution event and helped provide the community with access to nutritious food and educational resources for a healthier lifestyle.
Festival participants:
• Tried samples of Applesauce Oatmeal Muffins with Blueberries and Vegetable Pasta Salad (see recipe in this e-newsletter).
• Made their own fruit smoothie with a pedal-powered blender bike.
• Learned about MyPlate.
• Participated in a fitness obstacle course.

Lincoln Bike Kitchen, Walmart and Sam's Club donated raffle items that festival participants had a chance to win by participating in educational booths.

The Nutrition Education Program (including Supplemental Nutrition Assistance Program–Education and Expanded Food and Nutrition Education Program), UnitedHealthcare, Produce from the Heart, Good Neighbor Center, Bluestem Health and Sunday Farmers' Market at College View teamed up with Nebraska Extension to host this festival.
Mike Shambaugh-Miller, director of Produce From the Heart was a key player in making community connections and organizing the distribution of 520 pounds of fresh produce and 130 half-dozen cartons of eggs.

4-H TEEN AMBASSADORS
4-H empowers kids to be leaders today. Lancaster County 4-H is growing true leaders by hiring Bailee Gunnerson, Valerie Gabel, Emma Lanik and Ryan Zoucha as 4-H FSF teen ambassadors. They helped plan, prepare and deliver 4-H FSF programs during June and July. For the festival, additional 4-H teen ambassadors (Natalya Solorio, Jovonna Alatriste, Ashlynn Sehi and Nathan Gabel) were recruited to help lead educational booths.

This experience helped teens learn about the power of their actions, as they were tasked with planning the event with the help of their Extension mentors. The teens got to see, firsthand, how much community members enjoyed the event while learning about healthy lifestyles. Many attendees asked when the next festival would be!