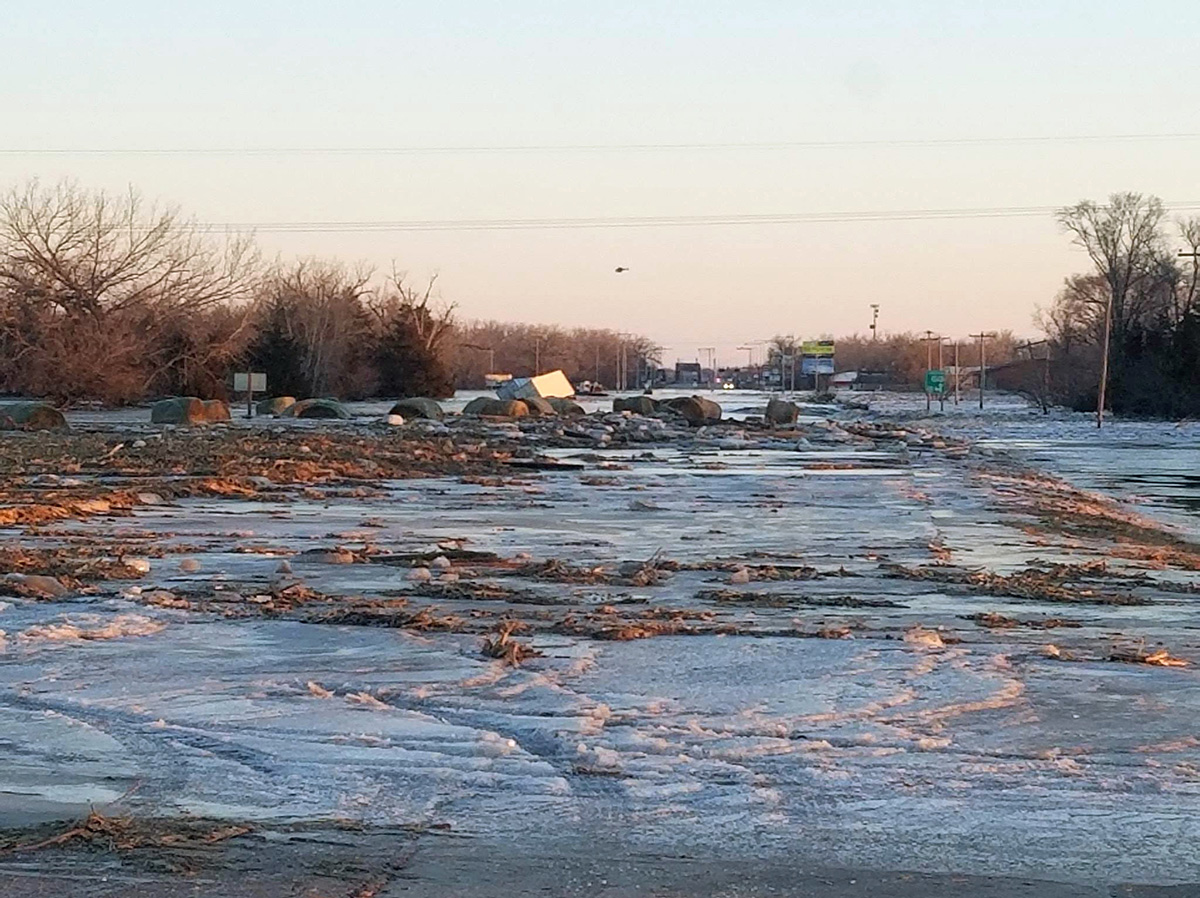 By Tyler Williams, Extension Educator, Lancaster County

Even though we have had some time to let the March 2019 blizzard and flood sink in, it is still in the front of the minds of many Nebraskans. I constantly think back to the series of events that led up to that event and think "Could the March 2019 flood happen again?" or "Will our weather ever give us a break?"

The flooding event from the Bomb Cyclone on March 13–14 seemingly "snuck" up on us. Even though there were warnings a few days in advance of this incredibly powerful mid-latitude cyclone, I don't think anyone realized what types of risks were out there.

As you recall, mid-January through early March of 2019 was one of the coldest and wettest periods in recent record for much of Nebraska. Parts of eastern Nebraska received over 20–30 inches above-normal snowfall and the average temperature in the state was 10–15°F below normal for the 60-day period. The extremely cold temperatures froze the soil down a few feet and also created thick ice on top of lakes and rivers.

The ice proved to be the most detrimental factor in the entire March 13–14 event. The frozen ground prevented any moisture from infiltrating into the soil creating a near 100% runoff rate, exacerbated in some areas by steep terrain. Even saturated soils will allow some percolation through the profile, but the ice-packed soil just "sped up" the runoff at rates that are hard to quantify. The ice-covered lakes and rivers prevented this water from evacuating quickly and added to the destruction typically seen by water alone.

The timing of this event could not have been much worse for many livestock producers. The cold and wet winter dwindled feed supplies and multiplied the energy needed by livestock just to maintain their condition. The 4–6 weeks prior to the "bomb cyclone" event left the livestock producers in tough shape and then this storm came, which was during calving season, and took out large portions of cow-calf herds. If the animals survived, the next challenge was dealing with mud, sickness and very little grass growth in the pasture. Spring-like conditions couldn't come fast enough, and I am not sure they ever really did.

COULD IT HAPPEN AGAIN?
This type of event is certainly possible to happen again, although, it is hard to get all of those conditions to align. A big component was the extended cold and we have been on a cooling trend in the month of February the past 30 years, even though our long-term trend is on a strong warming trend. Our late-winter pattern is proving to be "persistent," whether it is warm or cold, and lately it has been cold. This persistence creates extreme conditions, and extreme cold and wet is definitely one of them.

The transition time from the extreme cold, snow and ice to spring-like weather systems is a key element to an event like this. We need time for snow and ice to melt and run off before we get heavy precipitation events. I do know I will be paying closer attention to ice and snow cover as we move into spring in the future.

EL NIÑO EXPECTED THROUGH SUMMER
The outlook for the summer does not really show a "break" from the dominant pattern from the last nine months, as cool and wet conditions still have the highest odds for occurrence for the middle part of the country — including Nebraska. The key difference is "cool and wet" during the summer means something completely different than in February. Cool and wet is not too bad for crop production and rangeland production, so long as it isn't too cool and there is still plenty of sunlight. These conditions are predicted by forecasters due to the persistent wet pattern this spring, high soil moisture values in the region and the expected El Niño that is predicted to continue through the summer.

Even though El Niño conditions have a limited impact on our region in the summer, it tilts the odds towards wet and cool, which we already had plenty of this spring. Areas are always at risk for "flash" droughts during the summer season, so monitoring conditions is still necessary. As we move into the fall and winter, the potential for an El Niño will play a larger role in the forecasts.

TIPS FOR CROP PRODUCTION IN A WET AND COOL SUMMER
• Monitor in-season nutrient levels due to potential losses.
• Check for rooting depth issues due to wet soils.
• Plan or schedule field applications in advance due to less field-work days.
• Plan for slowed crop maturity and delayed harvest.
• Monitor fields for late-season weeds due to slower crop canopy.
• Maintain soil residue cover to reduce higher erosion risk.
• Scout regularly for increased risk of crop diseases.