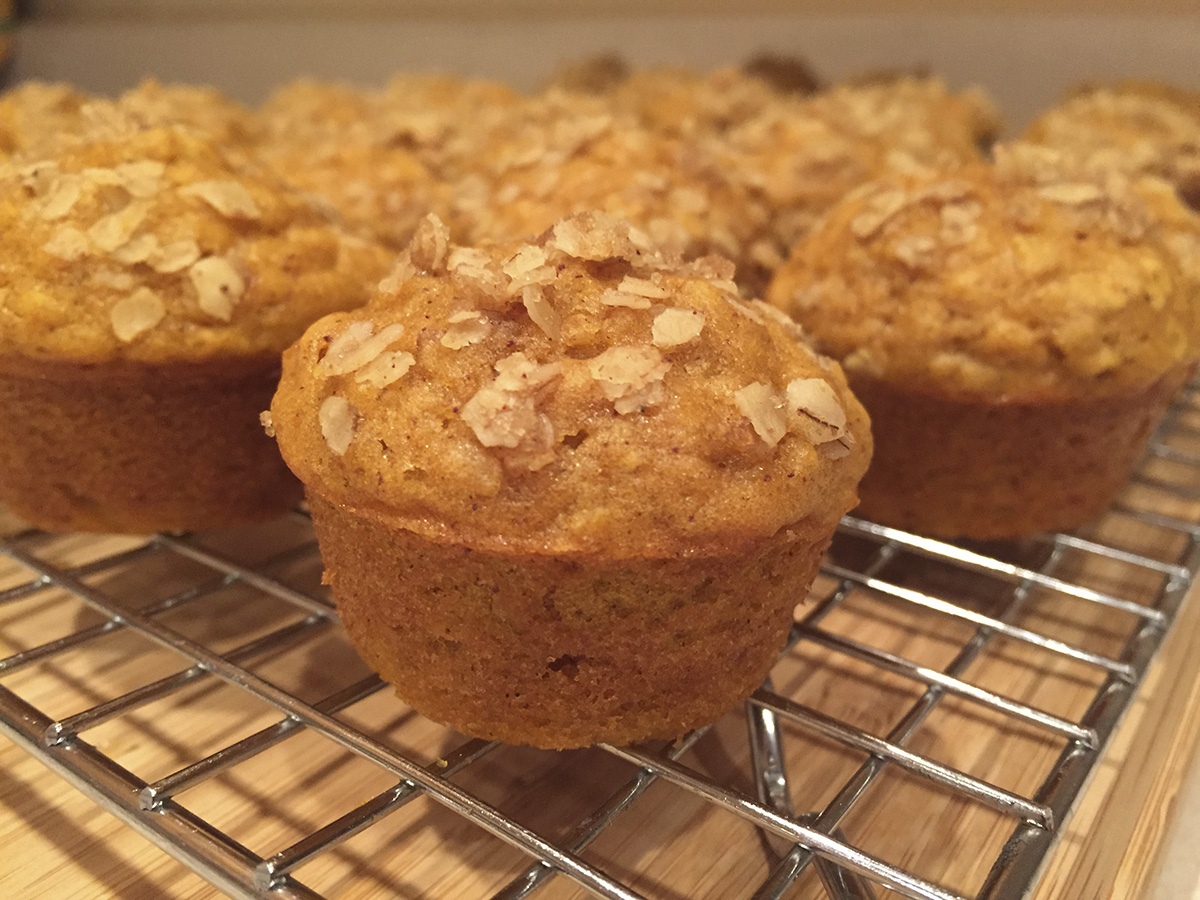 By Kayla Colgrove, MS, RDN, ACSM-CPT, Extension Educator, Lancaster County

I'm highlighting this recipe by Cami Wells, Extension Educator in Hall County, because it is a great way to enjoy the pumpkin flavor without extra calories. The recipe also includes quick oats, which is a whole grain. It is important to make half your grains whole grains since whole grains have extra nutrients such as zinc, magnesium, B vitamins and fiber.

MINI-PUMPKIN SPICE OATMEAL MUFFINS
(Makes approximately 36 mini-muffins)

1-1/2 cups all-purpose flour
1 cup quick oats
3/4 cup brown sugar
1 Tablespoon baking powder
1/2 teaspoon baking soda
1/2 teaspoon salt
1-1/2 teaspoons pumpkin pie spice
1 egg, slightly beaten
1 cup pumpkin puree
3/4 cup low-fat milk
1/3 cup oil

Topping:
1/4 cup quick oats
1 Tablespoon brown sugar
1 Tablespoon melted margarine or butter
1/8 teaspoon pumpkin pie spice

1. Wash hands with soap and water. Spray mini-muffin tins with cooking spray or use mini-muffin liners.
2. In a medium bowl, combine flour, quick oats, brown sugar, baking powder, baking soda, salt and pumpkin pie spice.
3. Break egg into a small bowl. Wash hands with soap and water after cracking raw egg. Add pumpkin, milk and oil to egg. Mix well.
4. Add liquid ingredients to dry ingredients and stir until just moistened. Fill muffin cups two-thirds full.
5. Mix topping ingredients. Sprinkle topping evenly over muffins. Bake mini-muffins at 400°F for 8–12 minutes or until evenly browned. Bake regular-sized muffins for 15–18 minutes.

Each muffin contains: 69 calories, 2.4 g fat, .4 g saturated fat, 5.3 mg cholesterol, 96 mg sodium, 11 g total carbohydrate, 5 g sugars, .6 g fiber and 1.3 g protein.