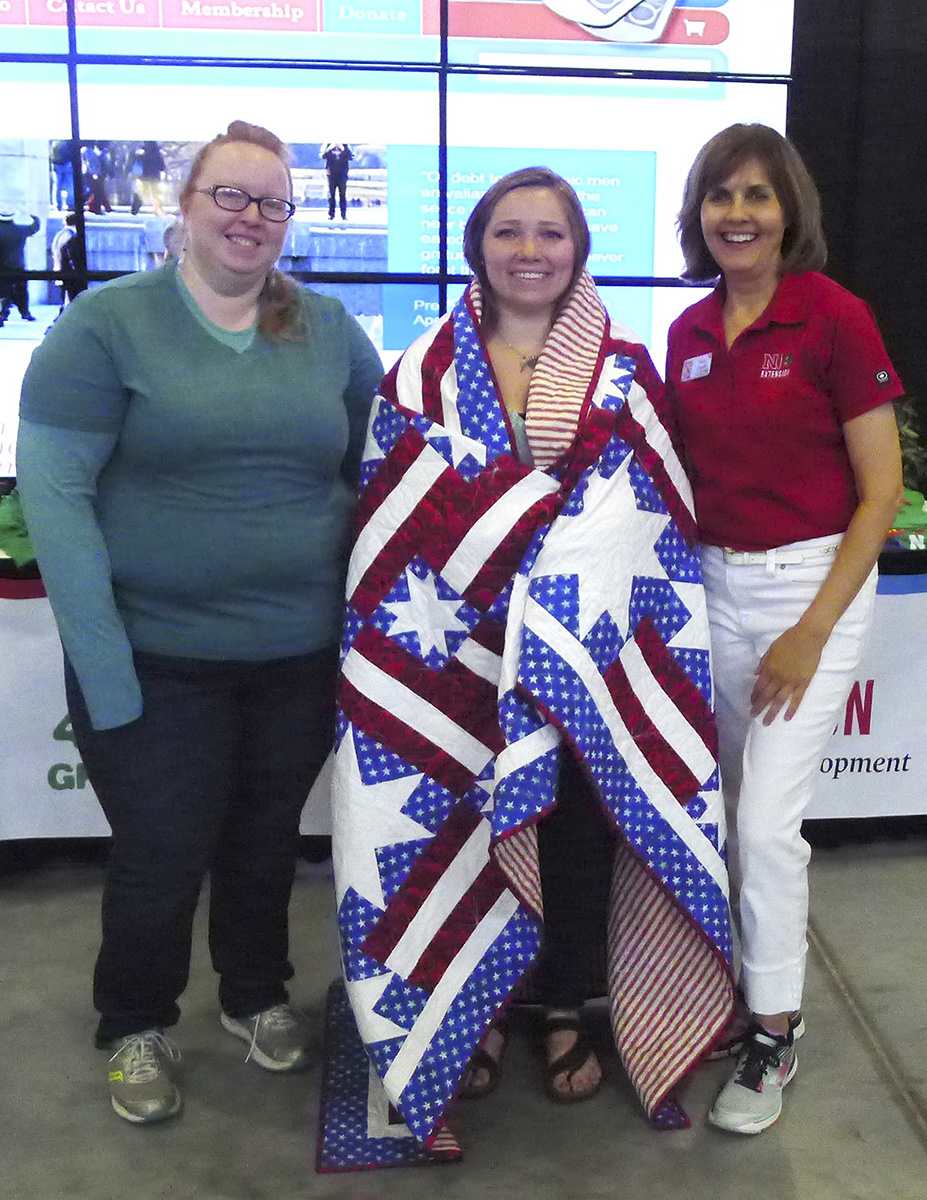 Quilts of Valor (QOV) Foundation is a national organization whose mission is "to cover service members and veterans touched by war with comforting and healing Quilts of Valor." Nebraska 4-H was the first state 4-H program to partner with the QOV Foundation.

This year, Lancaster County 4-H received two quilting kits from Nebraska Peacemakers QOV. Both quilts were on display at the Nebraska State Fair and one was presented at a special ceremony featuring all 87 Quilts of Valor made by Nebraska 4-H youth.

One of the QOV was a group effort. 4-H volunteer Mary Burroughs taught a Quilt Block workshop at Clover College in June. Seven youth ages 9–13 sewed "flying geese" blocks. Mary then assembled the blocks and a volunteer with the Lincoln QOV group stitched the quilt with a long-arm quilter. The plan was for the quilt to be presented to an unfamiliar veteran on Oct. 18 during a ceremony at the VA campus in Lincoln. This plan changed when Lancaster County 4-H summer intern, Rachel Wells, lost her father to a tragic accident in the Aug. 7 storm by Grand Island. Dennis Wells was killed when​ a downed tree struck his truck. Due to her county connection and physical injuries sustained during her service, Rachel was personally selected to receive this red, white and blue quilt. She was awarded the quilt at the State Fair ceremony, and will be re-awarded on Oct. 18 at a local ceremony. Rachel completed two deployments in the navy from 2012–2017 and was stationed on the USS George H.W. Bush as an Aviation Ordnanceman.

The second Lancaster County QOV was an individual effort. 17-year-old 4-H member Ellie Babcock sewed blocks, assembled, stitched and finished a quilt by herself.​ It was donated to the Nebraska QOV Foundation and will be awarded to a veteran at a later date.