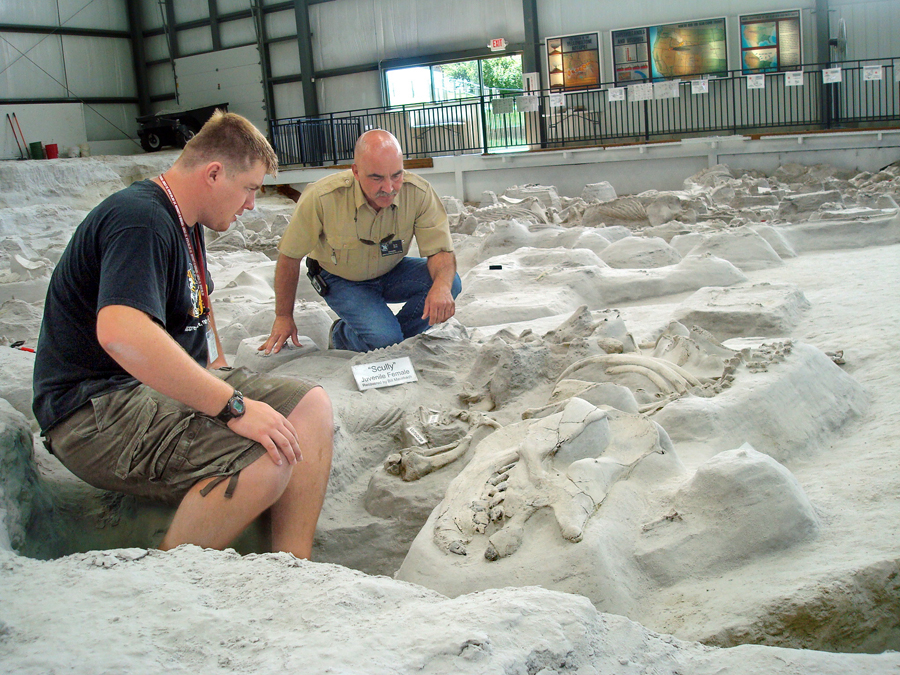 The University of Nebraska State Museum's next Sunday with a Scientist program for children and families will focus on the paleontology of Ashfall Fossil Beds State Historical Park. The program will take place 1:30-4:30 p.m., March 18 at Morrill Hall. Museum Sunday hours are 1:30-4:30 p.m.

Visitors will have the opportunity to take part in hands on activities with fossil specimens and volcanic ash samples. They will also be able to interact with paleontologists who have conducted research at Ashfall and educators who have conducted programs at the park. Presenters will include State Museum Curator Emeritus Mike Voorhies, who discovered the fossil beds in 1971; Museum paleontologists Greg Brown, George Corner and Shane Tucker; and Ashfall staff and volunteers.

Ashfall, two miles west and six miles north of Royal, is a joint project of the State Museum and the Nebraska Game and Parks Commission. The park displays three-dimensional skeletons of hundreds of prehistoric animals, including rhinos, camels, three-toed horses, and birds, among others — all preserved in the area where volcanic ash killed them 12 million years ago.

In 2009, the 17,500 square–foot Hubbard Rhino Barn was built to enable the expansion and protection of the excavations, allowing visitors to observe researchers uncover even more fossil specimens. To date, more than 350 full skeletons and 25,000 isolated fossil specimens have been documented at the site. Ashfall is a National Natural Landmark as designated by the U.S. Department of the Interior.

Ashfall will re-open for public visitation beginning May 1. For additional visitor information call (402) 893-2000 or visit http://www.ashfall.unl.edu.

Upcoming Sunday with a Scientist Topics are April 15 -- Food Science; May 20 – Bees; June 17 - DNA; July 15 - TBA; Aug. 19 - Plants; Sept. 16 - Biofuels; Oct. 21 - Ogallala Aquifer; Nov. 18 - Birds; Dec. 16 – Platte River Time Lapse Project.

For updates on the Sunday with a Scientist schedule through the year, visit http://www.museum.unl.edu.

Sunday with a Scientist is a series of presentations that highlight the work of State Museum scientists and those from other UNL departments and institutions, while educating children and families on a variety of topics related to science and natural history. Presenters will share scientific information in a fun and informal way through demonstrations, activities, or by conducting their science on site. Sunday with a Scientist programs are 1:30 to 4:30 p.m. at Morrill Hall on the third Sunday of each month.


More details at: http://go.unl.edu/ij9