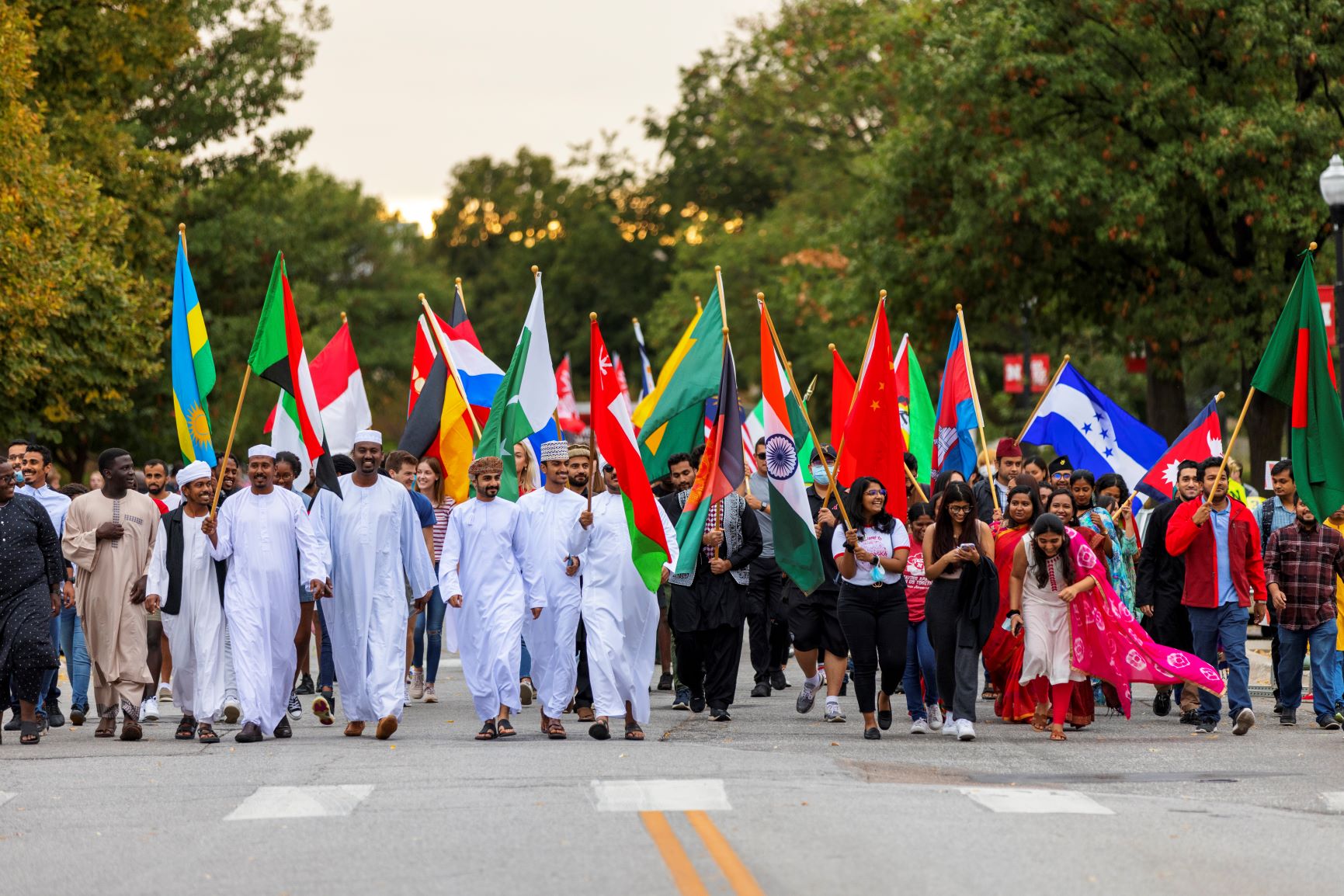 Every November, the University of Nebraska-Lincoln joins institutions around the world to celebrate International Education Week. This year, IEW at Nebraska is expanded to a month-long celebration from Nov. 1 to 24 to celebrate the breadth of global opportunities available to students and the international diversity of the Husker community.

An annual celebration hosted at Nebraska and universities around the world, International Education Week is a joint initiative of the U.S. Department of State and Department of Education to celebrate the benefits of an international education. The official dates for the celebration run Nov. 15 to 19, but Nebraska decided to expand its celebration in order to further elevate the importance of a global education and provide additional flexibility for programming.

"This expanded International Education Week is our chance to increase student exposure to global experiential learning opportunities and connect more closely with our international community here in Lincoln," said Josh Davis, associate vice chancellor for global affairs.

With more than 80 events currently added to the schedule, students, faculty and staff have a plethora of opportunities to choose from to join in the celebrations. Coordinated by the university's Office of Global Strategies, this year's schedule includes a range of special presentations and cultural exchange opportunities developed exclusively for International Education Week, as well as the incorporation of recurring events with international ties, language tables and multicultural RSO meetings. Events will be hosted both on Zoom and in-person, with masks required at in-person events under current university COVID-19 policies.

The College of Business and Global Affairs will host this year's signature event, Global Café and Connections, at 5:30 p.m. Nov. 16 in the Hawks Hall Atrium. First debuted during 2019 IEW celebrations, the event invites the university community to sample food from local ethnic restaurants and experience cultural presentations from international students and community members. Registration is required in advance.

Students also have a chance to sample different hot beverages from six countries at Global Hot Drinks, hosted from 1 to 3 p.m. on Nov. 10 in the Henzlik Hall atrium by the International Student and Scholar Office, OASIS and Kawasaki Reading Room. Other popular events to return this year include the Edythe Wieber International Studies Scholarship Reception, hosted Nov. 16 by the Education Abroad Office, and the Oxford High Tea Reception, hosted by the College of Business at 2 p.m. Nov. 17.

Long-standing partner Kawasaki Reading Room has two academic lectures planned during IEW, analyzing the Japanese film "Weathering with You" Nov. 12 and the anime series "Attack on Titan" Nov. 18. Inspired by recent world events, the College of Education and Human Sciences is hosting a donation drive event Nov. 13 for Afghan refugees coming to Nebraska that includes ethnic food trucks and booths from Lincoln community partners. The School of Global Integrative Studies will also host its next Global Café event Nov. 17 examining Mayan identity politics and cultural heritage in Honduras.

This year's celebrations also include several new partners among academic and university units. The Office of National and International Fellowships will host two sessions on international fellowship opportunities for undergraduate students at noon Nov. 12 in the Nebraska Union Chimney Rock room and virtually on Nov. 15. From Nov. 15 to 19, the Center for Academic Success and Transition will host a booth at the Nebraska Union for students to play "Down Side Up," a trivia game with prizes to learn how to get out of your comfort zone and see the world. During the same week, the Nebraska Alumni Association is collaborating with the Office of Global Strategies on a Global Virtual Alumni Parade. On Nov. 17, the Yeutter Institute of International Trade and Finance will host a virtual panel on international trade careers and professional development tips for students.

The International Student Advisory Board and Racial Justice Alliance have also joined as new RSO partners for IEW. On Nov. 9, ISAB will host an international alumni panel sharing tips on the job search with staff from University Career Services and the Office of Graduate Studies available afterwards for resume and LinkedIn profile reviews. The RJA will host its "Expanding Minds: Perspectives from International UNL Students" panel on Nov. 18 via Zoom. Additional student-led events include the Nov. 6 Diwali Night, hosted by the Indian Student Association, and Hangul Night hosted by the Korean Student Association on Nov. 13.

"We're extremely grateful for the strong support the university community has shown in hosting IEW events this year," Davis said. "I look forward to joining the celebrations and encourage all students, faculty and staff to join as many events as they can."

Other supporters of International Education Week include the College of Agricultural Sciences and Natural Resources, College of Arts and Sciences, College of Engineering, Department of Modern Languages and Literatures, International Quilt Museum, Office of Diversity and Inclusion, Office of Research and Economic Development, Programs in English as a Second Language, Sheldon Museum of Art, SLICE, Afghan Student Association, Afrikan People's Union, BOM Korean Cultural Club, Business International Student Association, Cultural Ambassadors, Medical Students United with Neighbors Across America, Mexican American Student Association, Middle Eastern and North African Student Association, Muslim Law Student Association, OASIS Student Advisory Board, UNL Shotokan Karate Club, Vietnamese Student Association and University Communications.

View a full list of International Education Week 2021 events on the Global Nebraska website.
More details at: https://go.unl.edu/iew2021