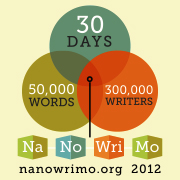 Do you have a great idea for a novel (or even a not-so-great one)? Do you want to write, but can't find the time or motivation? National Novel Writing Month gives writers a chance to write a novel in one month, emphasizing hard work, productivity, and letting go of your inner critic! By the end of the the month, you, too, can have a 50,000 word novel complete.

Located in Andrews Hall 115, the Writing Center welcomes all writers who would like to participate in National Novel Writing Month to come in for write-ins on every Saturday in November from 1 to 5 p.m. A write-in is a chance to all write together in an atmosphere of encouragement and empathy. Come sit, write, and share the novel writing experience.

Writers of all levels of experience writing in every genre are welcome. Writers are encouraged to bring their laptops, and there are also computers anyone can use in the Writing Center.

There will be support, community, and novel-writing fun. Come meet other novelists, share your ideas and struggles, and write together. For more information, contact Daniel Nyikos at daniel.nyikos@huskers.unl.edu .
More details at: http://www.nanowrimo.org