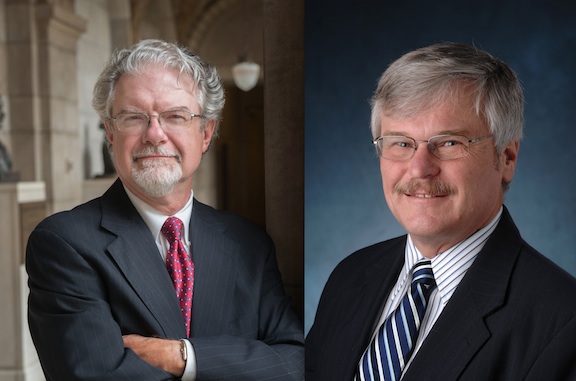 A debate on the death penalty and its consequences will be the focus of the Nov. 28 E.N. Thompson Forum on World Issues. Students are invited to attend the free event and hear from two experts on the topic: Nebraska Solicitor General J. Kirk Brown and Michael Radelet, a sociologist from the University of Colorado Boulder who has extensively researched capital punishment. They will present "The Death Penalty: Justice, Retribution and Dollars" at 7 p.m. at the Lied Center for Performing Arts, 301 N. 12th St. The event is also this season's Chuck and Linda Wilson Dialogue on Domestic Issues.

In a debate moderated by Susan Poser, dean of the UNL College of Law, Brown and Radelet will explore such questions as whether the death penalty is humane, fairly applied, reduces violent crime, or is cost-effective. They'll also examine impacts on the condemned person, the legal and judicial systems, victims' loved ones, and the taxpaying society at large.

While free to attend, the event does require a ticket. To reserve free tickets, call the Lied Center at 402-472-4747. Tickets may also be picked up in person or ordered by downloading a form from the forum's website, http://enthompson.unl.edu. All tickets are for general admission seating.

Radelet has testified in dozens of death penalty cases, before congressional committees, and in legislatures in seven states. He has worked with scores of death row inmates and families of homicide victims.

Brown, an alumnus of UNL's College of Law, has served as Nebraska's Solicitor General since 2003. For more than 28 years, he has been Nebraska's primary counsel in capital cases and was counsel of record in Nebraska's three most recent executions: State v. Otey (1994); State v. Joubert (1996); and State v. Williams (1997).

For more details about the upcoming debate and the speakers, read the full news release at http://go.unl.edu/3vb.

More details at: http://events.unl.edu/2012/11/28/71280/