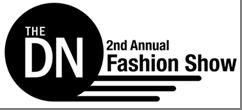 The Daily Nebraskan will be hosting the 2nd Annual Fashion Show on Wednesday, February 19th. Booths open at 4 p.m. to shop around and doors to the show open at 6 with the show starting at 6:45 p.m. There will be over 20 vendors passing promotional items such as cupcakes, coupons, and more. Ten boutiques and clothing places from around Lincoln will have student models modeling clothes and bridal/tux wear during the show. Chi from KFRX will be the MC with Complete Music playing the music. UNL Dance will be performing a musical number during the intermission. There will be raffles throughout the night with grand prizes at the end of the show.

Prizes include: A one year yoga pass to House of Yoga worth $700, 2 tickets to Katy Perry at the Arena in August, $400 gift card to the Nebraska Bookstore donated by 50/50 housing. Vendors at the Show includes: Azurite Bridal, Blu Velvet, Dress Barn, Black Market, Threads: Footloose and Fancy, Tip Top Tux, Lotus House of Yoga, Shanti's Boutique and Be Yourself Boutique.

Entry to the show is free with download of our free DN app.
Find us on Facebook: DN Fashion Show and Twitter @SpecialEventsDN.