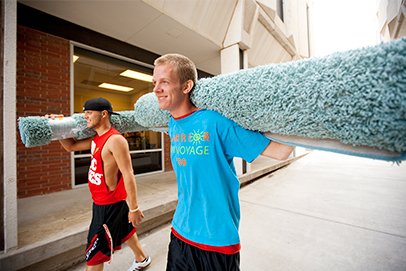 Move-in 2021 is only a few weeks away. Before your student heads to campus, know what to bring and where to find move-in information.

Student residents and parents will receive an email newsletter on August 5 with move-in information that includes a map and specific instructions on the move-in unloading process. Because vehicles need to arrive for curbside unloading in a specific entrance and exit flow, using GPS and the building address (Google Maps, Waze, etc.) could take you the wrong way.

What hall activities are happening during move-in? Residence Life will welcome students with block parties and a hypnotist show that students won't want to miss. All the fun things happening plus great tips for students will be included in the email newsletter.

For a list of what to bring and what not to bring, view the move-in website at: https://go.unl.edu/movein. You also can watch the helpful videos with your student in MyRED about coming to campus.

Tell your student not to miss out on the latest housing and dining updates! They can stay connected with us @unlhousing on Instagram, Twitter and Facebook.