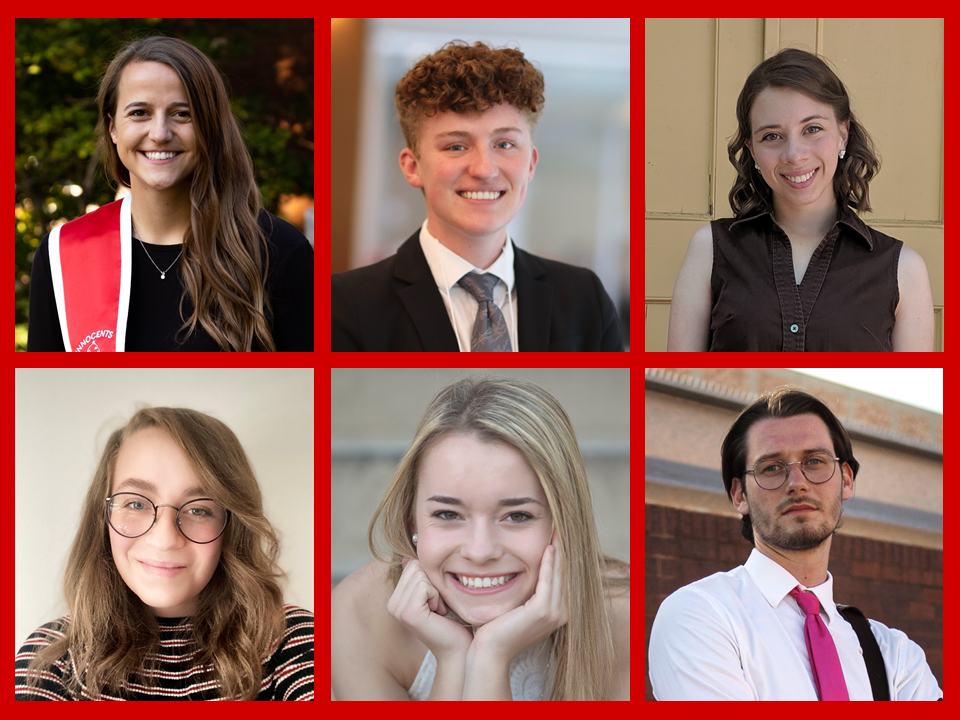 Spring is a time for celebrating students' achievements and growth throughout the academic year. As family members and supporters, you encourage the strengths and hopes that allow students to persist through challenges, to pursue their personal and professional dreams and to thrive as leaders and change agents with regional, national and global impact. We're delighted to celebrate our recipients of major national and international scholarships and fellowships and to share their amazing stories with you.

Six Husker seniors were offered Fulbright U.S. Student Program grants.
The Fulbright Program, the U.S. government's flagship international educational exchange program, provides students with opportunities to study, teach and conduct research, exchange ideas and contribute to finding solutions to shared international concerns. Recipients of Fulbright awards are selected in an open, merit-based competition that considers leadership potential, academic and/or professional achievement and record of service.

Laura Jensen of Lincoln was offered a special grant unique to Austria, the Community-Based Combined Award, which incorporates English teaching, university coursework and nonprofit volunteer work in the host community. After spending a semester abroad in Berlin, and volunteering at the refugee-serving nonprofit Juniper Refuge in Lincoln, Jensen realized the importance of cultural relations and community support. This fall, Jensen will serve as an English Teaching Assistant in Austrian classrooms while studying at the University of Vienna and volunteering at Integrationshaus, a local refugee organization.

Five Nebraska graduating seniors were also offered English Teaching Assistant placements to support English language classroom instruction and serve as cultural ambassadors for the U.S. Following is a list of undergraduates who will serve as Fulbright English Teaching Assistants in academic year 2022-23, organized by hometown, with their academic majors and the countries where they will teach.

Nebraska:
Hastings: Spencer Tessman, German Education and Spanish Education, Germany
La Vista: Joanna Walton, German Education, Germany
Lincoln: Adrian Pilkington, Software Engineering and French, France
West Point: Leigh Jahnke, Biological Sciences and Spanish, Spain

Iowa:
Des Moines: Sarah Brady, Music and Microbiology, Poland

Senior Aaron Haake received the National Science Foundation (NSF) Graduate Research Fellowship.
Aaron Haake, a senior mechanical engineering major from Denton, Nebraska, will begin graduate studies this Fall with support from the NSF Graduate Research Fellowship. A member of the University Honors Program, Haake serves as president of the UNL Robotics Club and is an Undergraduate Creative Activities and Research Experiences (UCARE) fellow in the Smart Materials and Robotics Lab.

Haake plans to pursue a master's degree in mechanical engineering at Vanderbilt University focused on wearable robotics, such as exoskeletons and lower-limb robotic prostheses. After completing graduate school, Haake hopes to launch a career designing robotic devices to aid in rehabilitation.

The NSF Graduate Research Fellowship program, the oldest graduate fellowship of its kind, recognizes and supports outstanding graduate students in NSF-supported scientific research fields. The fellowships provide the student with a three-year annual stipend of $34,000 and a $12,000 cost-of-education allowance, as well as access to opportunities for professional development.

Senior Aline Abayo became a Carnegie Endowment for International Peace Junior Fellow.
Aline Abayo has been awarded a full-time research internship at the Carnegie Endowment for International Peace in Washington, D.C. Abayo is a senior integrated sciences major, with a concentration in agricultural economics, from Kigali, Rwanda. She is a member of the University Honors Program and the College of Agricultural Sciences and Natural Resources' Undergraduate Scholars Program, a unique exchange program that has supported Rwandan students in studying priority topics identified by the Rwandan Ministry of Agriculture and Animal Resources. Her undergraduate research experiences include service as a Clayton Yeutter Institute Student Fellow, a Bureau of Business Research Scholar and research assistant at the University of Nebraska Public Policy Center.

As a James C. Gaither Junior Fellow in the Africa Program, Abayo will explore economic, social and political factors that shape the Africa region today. She is especially interested in understanding issues related to climate change, trade agreements and investments.

Gaither Junior Fellows provide research assistance to scholars working within Carnegie's research programs. The fellowship program provides a substantive work experience for students who have a serious career interest in international affairs, including opportunities to conduct research for publication and to participate in meetings and briefings with government officials.

Junior Sarah Altman received a Goldwater Scholarship.
Sarah Altman, a junior majoring in biological systems engineering, has earned a Barry M. Goldwater Scholarship for excellence in research. A La Vista native, Altman has conducted research through Nebraska's Undergraduate Creative Activities and Research Experiences (UCARE) program and the National Institutes of Health's INBRE Scholars program. Her work includes laboratory experiences investigating breast cancer metastasis, treatments against RNA viruses, and vaccines for pancreatic cancer.

Altman, who is also a member of the University Honors Program, hopes to earn a doctoral degree in biomedical engineering and work in genetic engineering and biomaterials — applying that knowledge to cancer immunotherapy technologies.

The Goldwater scholarship provides up to $7,500 per year for educational expenses and is the pre-eminent undergraduate award for outstanding students pursuing scientific research careers.

Senior Rachael Lange received a Critical Language Scholarship.
Rachael Lange of Raymond, Nebraska, majors in Philosophy and Russian with a minor in Global Studies. To gain more immersive experience in Russian, Lange applied for and received a full scholarship to participate in the summer Critical Language Scholarship Program. Lange, who is also a member of the University Honors Program and a Regents Scholar, hopes the intensive language learning experience will further develop her empathy and understanding through interaction with Russian speakers and support her work in building bridges across cultures. Lange plans to graduate in December 2022.

The Critical Language Scholarship Program is part of a U.S. government effort to expand dramatically the number of Americans studying and mastering foreign languages that are critical to national security and economic prosperity. Participants in the summer language instruction program are citizen ambassadors, sharing American values and promoting American influence abroad.

Encourage your student to consider applying.
Courtney Santos, director of National and International Fellowships, provides strategic advice and personalized feedback to applicants for our 30 supported awards for research, public service, graduate study or English teaching abroad.

If your undergraduate student is interested in applying for a national or international fellowship, please encourage them to visit http://fellowships.unl.edu/ to learn more about advising services.

More details at: http://fellowships.unl.edu