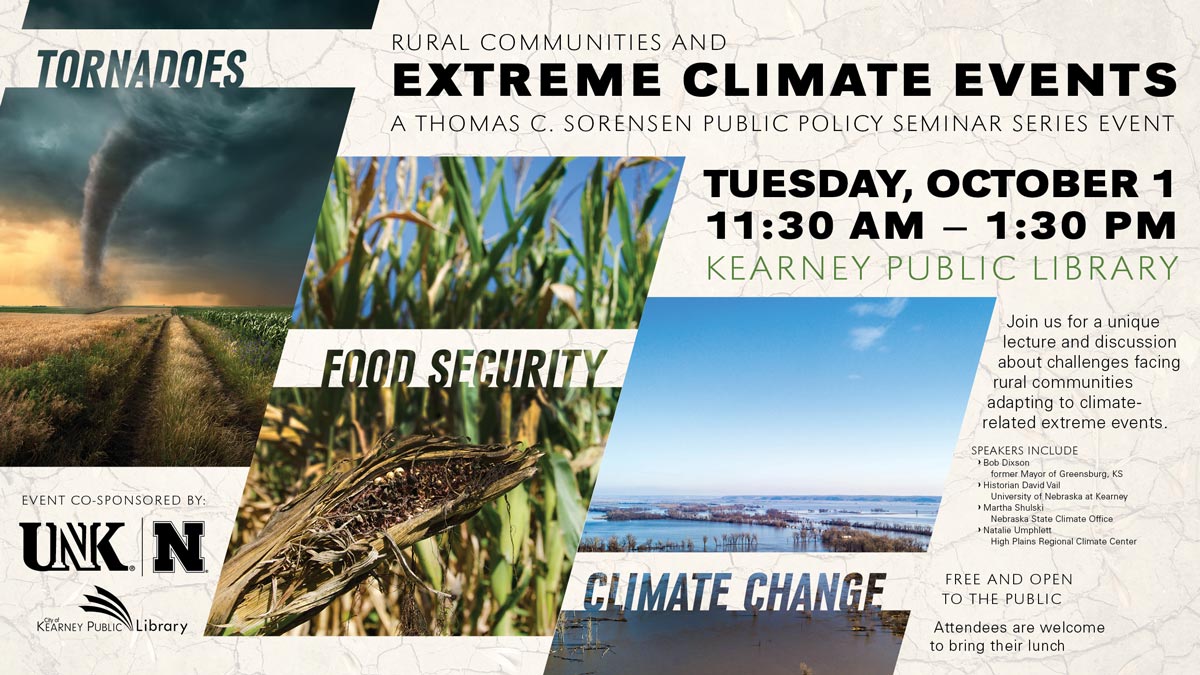 The Thomas C. Sorensen Policy Seminar Series: Rural Communities and Extreme Climate Events will feature climatologists Martha Shulski and Natalie Umphlett, both of the School of Natural Resources, among others.

The brown-bag lunch lecture and discussion will be 11:30 a.m. to 1:30 p.m. Oct. 1 at the Kearney Public Library, 2020 1st Ave, Kearney, Nebraska 68847.

The event is free and open to the public and University of Lincoln-Kearney community.

This forum will discuss opportunities and challenges facing rural communities adapting to climate-related extreme events. The forum will feature:

Bob Dixon, former Mayor of Greensburg, Kansas, who will tell the story of the EF-5 tornado which devastated the town, and its rebuilding as a 100% wind energy powered city with the most LEED certified buildings per capita in the nation;

Historian David Vail from the University of Nebraska at Kearney will discuss the historical context of climate and food security in the Great Plains since the 1950s;

Climate scientists Martha Shulski and Natalie Umphlett from the Nebraska State Climate Office and High Plains Regional Climate Center will provide an overview of their work assisting regional municipalities plan for climate change.


Following the lecture, there will be a 30-minute volunteer focus group with climate scientists who would like to learn your ideas about how small municipalities can prepare for extreme climate events. Space is limited for the focus group.

Co-sponsors for the event include the University of Nebraska Public Policy Center; Kearney Public Library; University of Nebraska-Lincoln, UN–Kearney; UNK College of Arts and Sciences; UNK geography; UNK History Department; UNK Political Science; Nebraska College of Arts and Sciences; UNL - College of Architecture; High Plains Regional Climate Center; Nebraska State Climate Office; and UNL School of Natural Resources.

This event is made possible by the College of Arts and Sciences through the Thomas C. Sorensen Endowment.

For more information, visit go.unl.edu/sorensen_climate.

Courtesy to the School of Natural Resources