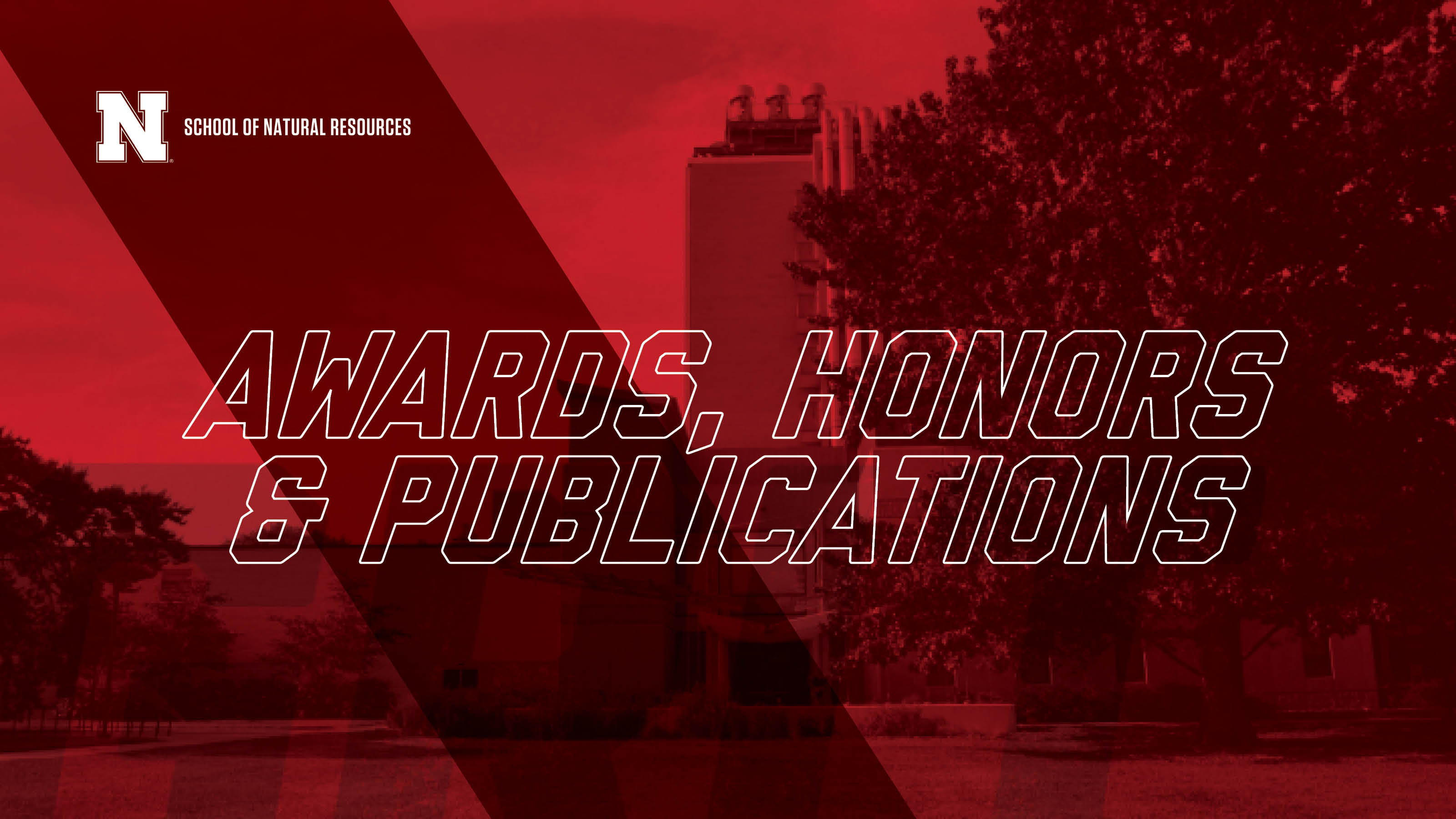 Recent accomplishments, including awards, honors and publications, were earned by Kevin Pope, Brian Wardlow, Tsegaye Tadesse, Martha Shulski, and the Nebraska Cooperative Fish and Wildlife Unit.

Pope earns Fisheries Management Award of Excellence
Kevin Pope, director of the Nebraska Cooperative Fish and Wildlife Unit at the School of Natural Resources, recently earned the Fisheries Management Award of Excellence during the American Fisheries Society conference in Reno, Nevada.

The award is given for inspirational leadership in the fisheries profession, by those who have substantial achievements to the American Fisheries Society and to fisheries resources, and who have communicated their work on both national and international platforms. The award is given annually.

Allen, Twidwell tackle competing frameworks for resilience
Research teams that include Craig Allen, director of the university's Center for Resilience in Working Agricultural Landscapes, and Dirac Twidwell, associate professor of agronomy and horticulture, recently published a commentary on environmental resilience in Nature Sustainability. In the commentary, Allen, Twidwell and colleagues attempt to reconcile competing frameworks on the concept of ecological resilience, an effort they argue has important implications for contending with worldwide change.

"This provided an opportunity to reset how we think about resilience, and reaffirm the body of theory that resilience was built upon, and produced," said Allen, professor within SNR. "The test of time is a critical test, & resilience theory has passed it."

Read the paper here.

Remote Sensing journal focuses on drought
Brian Wardlow and Tsegaye Tadesse recently co-edited a special issue of the journal Remote Sensing that focusing on recent advances in drought monitoring and prediction, presenting case studies conducted all over the world.

The special edition included 13 papers by researchers focused on drought-sensing based drought indices, Earth observations to improve drought analysis and prediction, data mining and GIS applications, and more. Learn more here.

Nebraskaland featuring monthly weather and climate column
Nebraskaland, a Nebraska Game and Parks Commission magazine with 22,000 subscribers, now features a column on weather and climate by Martha Shulski, Nebraska State Climate Office director and Nebraska state climatologist at SNR.

Each edition will feature a timely weather or climate topic, with the hopes of growing the understanding of climate and weather in Nebraska — which can be extremely diverse from West to East and North to South.

The current edition features a column on fog. Copies are available at local retail outlets, or learn how you can subscribe here.

Nebraska COOP Unit releases annual report
The Nebraska Cooperative Fish and Wildlife Research Unit at SNR recently released its annual report, focused on the unit's current and recently completed research project; on their teaching efforts; their professional activities; and their student and staff successes.

Get a copy on floor four of Hardin Hall, or read the digital copy here.