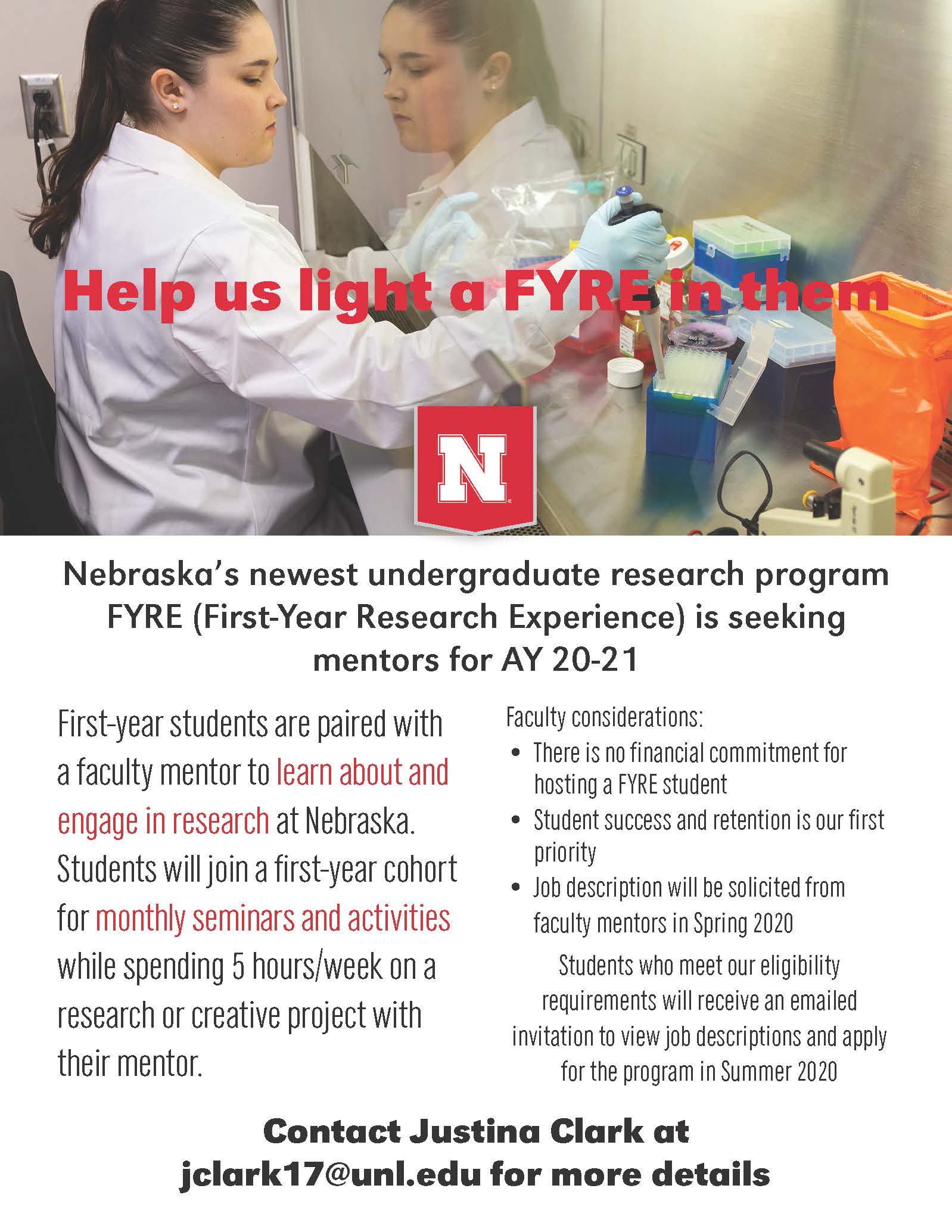 The Office of Undergraduate Research is seeking faculty mentors for the 2020-21 First Year Research Experience (FYRE) cohort. FYRE allows students to use their federal work study funds in a research or creative activities job, enabling students to get paid to learn. FYRE will match interested first year students with faculty mentors to learn about research and creative activity in the mentor's field by spending five hours a week on a manageable project over the course of the year.

The first FYRE cohort of 40 students will conclude their research and creative projects in April 2020 and 25% plan to continue in research or creative activity next academic year. Justin Frandsen, a first-year student in psychology who worked with Dr. Michael Dodd says, "The FYRE program was a great way to become a better scientist in my field by learning about research and what I like and dislike. I was able to work directly in projects with many different people. This helped me to get a leg up in my field, and now I have many people who can mentor me and help me advance during my time as a student."

We are seeking faculty mentors who are committed to student success through high-impact learning practices like undergraduate research and are interested in developing projects and opportunities for freshmen. Byron Anway, assistant professor of practice in the School of Art, Art History, and Design mentored Enrique Martinez through an apprenticeship-style FYRE experience. "Working with Enrique has been both positive and mutually beneficial. As evidence, our work together has led to further research funding and exhibition opportunities for both of us. As a faculty mentor, my FYRE student has worked closely and consistently in the studio to assist in producing high quality drawings and watercolors for exhibition. They have also increased my production capacity. My undergraduate researcher has invigorated my practice providing a sounding board for ideas, imagery, and material handling techniques. In turn my mentorship has led to exhibition opportunities, grant funding, improved materials, and introductions to professionals in our discipline including gallerists, curators, and critics."

Job descriptions from interested faculty mentors for the 2020-21 academic year are due May 1. Complete this webform to tell us about your proposed project: https://research.unl.edu/events/event.php?eventID=4591 and visit the FYRE page (https://ucare.unl.edu/opportunities/fyre) to review the FYRE selection timeline and additional details. Feel free to contact Justina Clark at jclark17@unl.edu for examples of job descriptions or to learn more about the program. .
More details at: https://ucare.unl.edu/opportunities/fyre