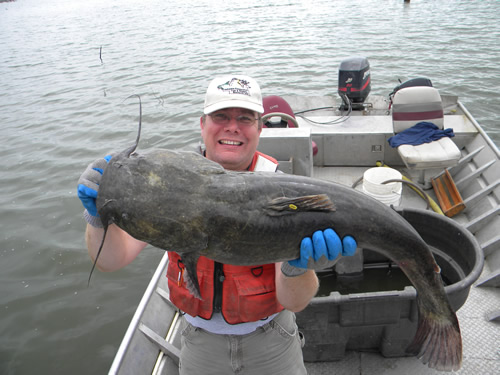 By Kevin Pope, Fisheries Ecologist

I joined UNL in 2005 as the founding assistant unit leader of the Nebraska Cooperative Fish and Wildlife Research Unit and an adjunct professor of fish ecology and fishery management. The Nebraska Cooperative Fish and Wildlife Research Unit is a unique collaborative relationship that was created by congressional action and established in 2004 through a cooperative agreement signed by the U.S. Geological Survey, the University of Nebraska, the Nebraska Game and Parks Commission, the U.S. Fish and Wildlife Service, and the Wildlife Management Institute. The three-part mission of the Unit is to educate graduate students and other natural resource professionals, conduct research that will create new information useful for management and conservation of fish and wildlife resources, and provide technical assistance that helps address the science-based information needs of state and federal cooperators. As such, the focus of the Unit is applied problems and issues relevant to the wise use of natural resources within and beyond Nebraska.

My program is directly aligned with this mission in that the fundamental goal of my research is to answer questions through graduate research that have direct application to natural resource management and conservation, while also maintaining relevance to the general scientific community. Our research in applied fishery ecology centers on lakes and reservoirs, with two foci: understanding mechanisms that alter the number of individuals in a population, and predicting subsequent responses in size and age structure for that population. Our studies, which are externally funded, are designed to provide information useful in directly improving management of aquatic resources. Current projects include understanding:

-- How irrigation-reservoir operations influence recruitment of walleye and white bass,
-- How reservoir type and stocking frequency influence size- and age-structure of channel catfish populations, and
-- How temporal and spatial patterns of angler participation, i.e., fishing, influence fish populations in reservoirs.

Recent findings include two distinct home ranges (localized and entire reservoir) of white bass during the spawning season, two distinct morphologies of stunted and non-stunted fish, and no negative effect of recreational fishing (catch and release) on growth of largemouth bass.

I teach two graduate fishery courses. Quantitative Fishery Assessment (NRES 871), taught spring of even years, was designed to increase students' understanding of current fishery assessment practices and increase proficiency with SAS statistical software. Emphasis is placed on quantitative assessments of fish populations (e.g., recruitment, growth, and mortality), communities (predator-prey interactions) and ecosystems (biostressors). Managed Aquatic Systems (NRES 965), taught spring of odd years with Mark Pegg, was designed to increase students' understanding of ecological processes that occur in regulated river basins and associated problems or opportunities that arise with fishery management. Emphasis is placed on fishes and how structure, process and function of aquatic systems are influenced by human activities. A unique aspect of this course is the presence of both professors in the classroom; that is, this course is truly team-taught, providing students the formal opportunity to interact with two faculty members who have differing experiences and sometimes differing opinions.