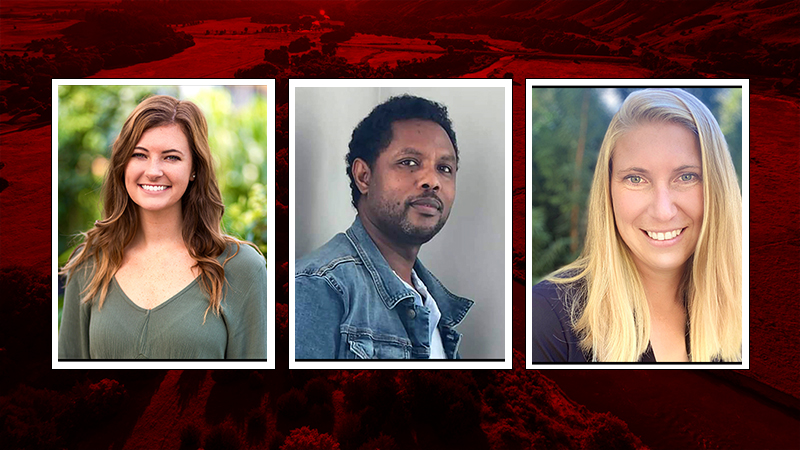 Katie Campbell, Nafyad Kawo and Rebecca Wyatt received Distinguished Fellowships from UNL.

Katie Campbell
Katie received the Dr Ron Johnson and Dr. Mary Beck Graduate Student Fellowship for Nature Conservation. This fellowship was created to support graduate students with a clear focus on conservation of nature and the biological diversity of life on Earth.

Katie's advisors are John Carroll and Kari Morefeld

"I grew up in Naperville, Illinois and am currently a second year PhD student in the School of Natural Resources. I previously completed my BS in Animal Science from the University of Illinois, Urbana-Champaign and my MS in Biology from the University of Nebraska, Omaha. "

"For my dissertation, I work with the nonprofit organization, For Elephants Inc., to study male African elephant endocrinology and reproductive physiology. The aim of my project is to identify the physiological, physical, social, behavioral, and environmental variables which positively or negatively influence fertility in bulls."

"Within the graduate program, I also serve as the SNR Graduate Student Association President."


Nafyad Kawo
Nafyad received the John and Louise Skala Fellowship. The Skala Fellowship was established in 1990 to commemorate the life of the donor's parents, John and Louise Skala. The fellowship granted annually to a full-time graduate students in the Institute of Agriculture and Natural Resources engaged in research for new industrial uses of agricultural products.

Nafyad Kawo a Ph.D. student at the School of Natural Resources, University of Nebraska-Lincoln, specializing in Hydrological Sciences. Mr. Nafyad is originally from Ethiopia. He has a Bachelor's degree in Applied Geology (2007) from Mekelle University, Ethiopia and a Master's degree in Land resources Engineering (2013) from Vrije University of Brussels, Belgium, and a Master's degree in Hydrology and Water Resources (2015) from IHE Delft, Netherlands. Nafyad's advisors are Jesse Korus and Erin Haacker.

His Ph.D. research focuses on groundwater model performance evaluation using Airborne electromagnetics data.

Nafyad likes football, comedy movies, reading, and biking.


Rebecca Wyatt
Rebecca received the Mary and Charles C. Cooper/Emma I. Sharpless Fellowship. This fellowship was established by the estate of Emma L. Lounsbury of San Bernardino, CA to recruit exceptional graduate students capable of benefiting from further education in the College of Agricultural Sciences and Natural Resources (CASNR).

Rebecca's advisors are John Carroll and Kari Morefeld.

"I study elephant behavior, physiology, and welfare and how this relates to African elephant conservation. "

"I moved to Nebraska after spending the majority of my life in South Carolina and Tennessee. "

"In my spare time, I enjoy birding and spending time outside with my three dogs."

More details at: https://snr.unl.edu/gradstudent/