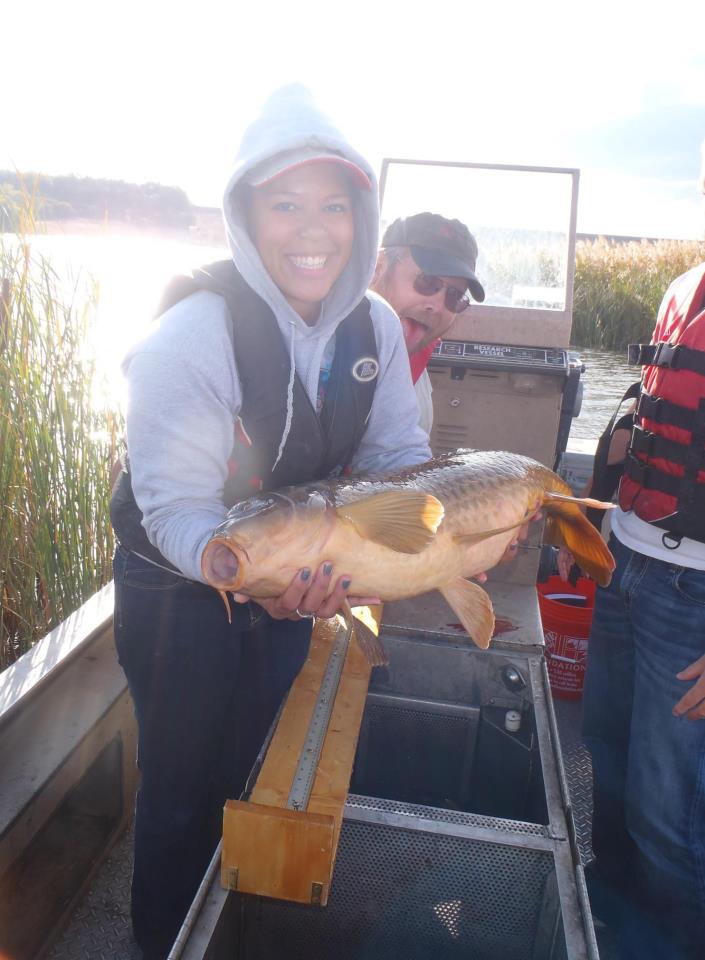 It's not every day a person lands her dream job. So when Monica Casey learned that she had been selected to intern with the Hudson River Park Trust in NYC's Upper East Side, she couldn't help but share the news with the SNR community.

Previously, Casey shadowed the aquarium keepers at the Henry Doorly Zoo and developed activities for kids at the Lauritzen Gardens – Omaha Botanical Center. "My ideal job would be the marriage of those two internships," she said. "And that's exactly what I'll be doing with the Hudson River Park."

Casey's task: to help protect and manage the Hudson River Estuarine Sanctuary while also improving community awareness through education and outreach. Casey will predominantly split her time between developing hands-on educational opportunities for youths in the area and monitoring various species throughout the park.

Some would be daunted by such responsibilities, but not this Omaha native. She's been embracing environmental outreach since she was 12 years old, volunteering first with the Lincoln Children's Zoo and then the Henry Doorly Zoo. By her senior year of high school, Casey's desire to promote youths' interests in animals materialized into a documentary film about the overlooked or unseen species in the Henry Doorly Zoo.

"I think making that film helped me get the internship there," she said with a smile. "They remembered me."

Casey first came to UNL as a biological sciences major, but she soon realized she wanted more hands-on experiences. During a brief visit to Hardin Hall, Casey bumped into SNR's undergraduate advising coordinator, Sara Winn. "Sara talked to me about the fisheries and wildlife major," Casey said. "It was exactly what I wanted."

"The passion of the professors in SNR is contagious," she went on to say. "Seeing their excitement makes it fun to go to class. Even when we're listening to a lecture or watching a PowerPoint presentation, it's easy to see how the material is relevant to what we want to do."

"I love my major," she said, a great big smile breaking open on her face.

Through SNR, Casey has traveled to Puerto Rico for study abroad and will be traveling to Namibia as a last course before graduation. She also collected data at the Cedar Point Biological Station as part of a fisheries science class. "I yanked carp out of the water to measure them," she explained. She thinks the experience will probably serve her well at the Estuarine Sanctuary.

Casey learned about the Hudson River Park internship through the Student Conservation Association, an organization that helps network high school- and college-aged students with hands-on conservation service programs. She recommends the resource for any students who are interested in doing work within the field of conservation.

Monica offers another recommendation for underclassmen and those weighing big decisions. "Amazing things will happen if you have the right personality and persevere," she explained. "If you do what you honestly love, the world will let you."

Even in the face of nerves about leaving the state she loves and the school she's come to think of as home, Monica Casey's passion moves her forward. "I've gotta save the world," she said with a twinkle in her eye. "So I'm going to the Big Apple and turning it green."

SNR wishes her the best of luck in all her pursuits.