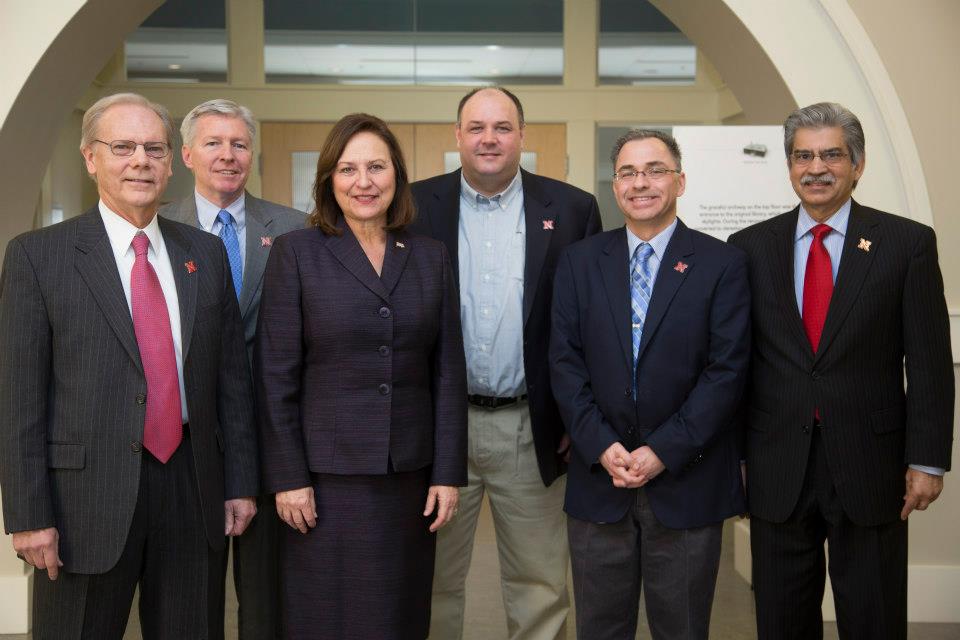 Hayes, Svoboda, and Wilhite informed Sen. Fischer about the current and projected concerns emerging out of the on-going drought during the senator's visit to UNL on Feb. 19. The meeting, arranged by the university to update the new senator on current major research projects at UNL, apprised Sen. Fischer about the significance of the NDMC as a national resource.

"Senator Fischer seemed very receptive to our work," said Donald Wilhite, the founding director of the NDMC and a former director of the School of Natural Resources. Sen. Fischer, who worked as a rancher before entering the U.S. Senate, recognized the significance of drought monitoring and the proliferation of drought-related information. "She has an excellent understanding about how drought affects ranchers and farmers." Wilhite explained. "She asked very specific, probing questions."

Michael Hayes, the current director of the NDMC, also felt encouraged about the experience. "Obviously she's aware about the drought situation," said Hayes. "This meeting was her first opportunity to hear about our concerns directly."

Hayes, Svoboda, and Wilhite offered Fischer an overview of the NDMC's work and history, with Hayes explaining the background of the NDMC, and Svoboda discussing the current drought and future prospects along with some findings coming out of the Center's research and services mission. Wilhite also outlined the relationship between the NDMC and the National Integrated Drought Information System; the NDMC is closely tied to NIDIS, which is a program enacted to develop early warning capacity in order to help keep local stakeholders up-to-date about current and projected drought conditions.

As a valuable resource for Sen. Fischer's constituents, the NDMC representatives also sought her support throughout her tenure as senator. "A lot of our work comes out of requests from farmers and ranchers," explained Svoboda, the NDMC's monitoring program area leader. "It's a two-way street. They tell us what they need or want to know, and we develop tools aimed at providing them with the information they need to make decisions. I feel Senator Fischer really resonated with that. She was very receptive to what we are trying to do."

"I find it very rewarding to meet with congressional representatives and staff," added Hayes. "I feel optimistic about her service for Nebraska."

Other UNL programs represented at the briefing with Senator Fischer included the Diocles laser research and the university's National Strategic Research Institute.