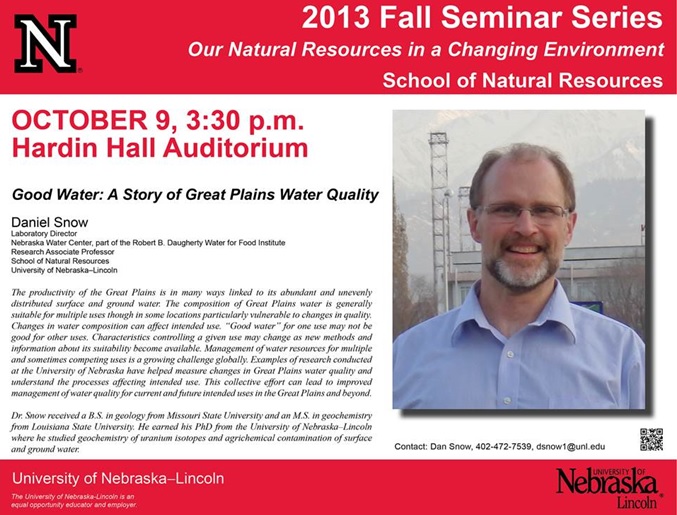 Dan Snow, research associate professor and water chemist will present "Good Water -- A Story of Great Plains Water Quality" at 3:30 p.m., Oct. 9 in Hardin Hall auditorium. The seminar is free and open to the public.

The productivity of the Great Plains is in many ways linked to its abundant and unevenly distributed surface and ground water. The composition of Great Plains water is generally suitable for multiple uses though in some locations particularly vulnerable to changes in quality. Changes in water composition can affect intended use.

"Good water" for one use may not be good for other uses. Characteristics controlling a given use may change as new methods and information about its suitability become available. Management of water resources for multiple and sometimes competing uses is a growing challenge globally. Examples of research conducted at the University of Nebraska have helped measure changes in Great Plains water quality and understand the processes affecting intended use. This collective effort can lead to improved management of water quality for current and future intended uses in the Great Plains and beyond.

Snow received a B.S. in geology from Missouri State University and an M.S. in geochemistry from Louisiana State University. He earned his PhD from UNL, where he studied geochemistry of uranium isotopes and agrichemical contamination of surface and ground water.



More details at: http://go.unl.edu/qesu