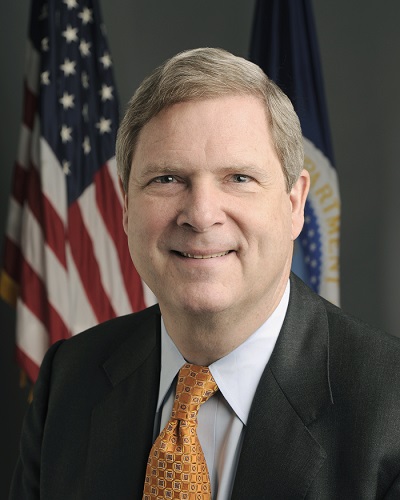 U.S. Agriculture Secretary Tom Vilsack will discuss "Rural America: New Markets, New Understanding, Unlimited Opportunity" when he presents the second lecture of the Heuermann Lectures season at 2:30 p.m., Nov. 5, in the Grand Ballroom of The Cornhusker, 333 S. 13th in Lincoln.

This Heuermann Lecture is jointly sponsored with the University of Nebraska's Rural Futures Institute.

"We all know rural America plays a tremendous role in our country, providing abundant, affordable food, clean drinking water, outdoor recreation opportunities, renewable energy and much more," said Ronnie Green, University of Nebraska vice president and Harlan vice chancellor in the Institute of Agriculture and Natural Resources. "But rural America also faces modern challenges to growth and opportunity. We look forward to hearing Secretary Vilsack speak on these issues."

Vilsack will lay out his vision for an innovative rural economy that unleashes new opportunity and provides even greater benefits for the U.S. economy in the long term. He will discuss USDA and Obama Administration efforts to expand markets for American agriculture products at home and abroad, while strengthening local and regional markets for farmers and ranchers.

The secretary will discuss new income opportunities and stronger climate solutions through natural resources conservation, and he will outline the potential to expand advanced renewable and bio-based product creation in rural America.

He'll also focus on the need for new, innovative partnerships to help rural America achieve great things across all these priority areas.

Vilsack, chair of the first-ever White House Rural Council, and USDA are taking steps to strengthen services for rural businesses and entrepreneurs, exploring new ways to partner with other federal agencies and private business to spur investment.

After the lecture the secretary will participate in the RUPRI State Rural Policy Initiative Roundtable following the Rural Futures Conference.

"This Heuermann Lecture also is a keynote address for the national Rural Futures Conference," Green said. "Heuermann Lectures focus on providing and sustaining enough food, natural resources and renewable energy for the world's people, and on securing the sustainability of rural communities where the vital work of producing food and renewable energy occurs. All these are part of the secretary's lecture."

Heuermann (pronounced Hugh-er-man) Lectures in IANR are free and open to the public. They are made possible by a gift from B. Keith and Norma Heuermann of Phillips, long-time university supporters with a strong commitment to Nebraska's production agriculture, natural resources, rural areas and people.

Lectures stream live at http://heuermannlectures.unl.edu, and are broadcast on NET2 World at a date following the lecture.
More details at: http://go.unl.edu/9760