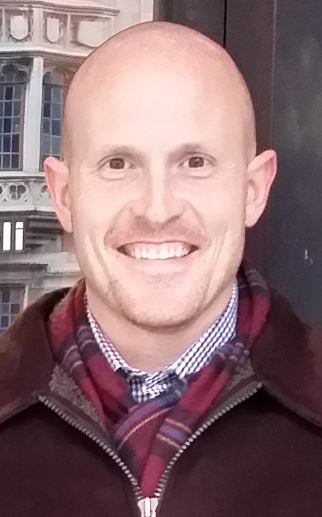 While some of our past graduates like to look up to the sky, Brian Baskerville, a 2013 masters graduate in geography, knows it's important to stay grounded.

"I attended graduate school at UNL to become a geographer. After several years trying to combine history, politics, economics, and natural resources into one field, I discovered that geography could do that for me. Although I'm a physical geographer in both training and trade, I believe my real interests are in human geography and geopolitics," Baskerville said about why he chose geography.

Throughout his time here, Baskerville not only succeeded in academics, he was extremely active in on-campus activities. President of both the UNL Geography Student Organization president and Gamma Theta Upsilon Geography Honor Society, he also participated in the Great Plains National Security Education Consortium (IC Scholar), Golden Key International Honor Society, and the SNR Student Association. When asked about what helped him be so successful here in the School of Natural Resources, he pointed to four faculty that made big impacts.

"I owe a lot to my adviser, Dr. Jim Merchant," he said. "He advised me well and demanded a lot from me. I won't say that I had a lot of 'fun' while working under him (tongue in cheek), but he did prepare me very well for the rigors of the knowledge economy! I also owe him for the opportunity to be a teaching assistant and teach/manage the geography labs."

Also on the list were:

Dr. David Wishart: For always being available to students, even those who weren't his direct advisees. "He kept me interested and enthusiastic about geography," Baskerville said.

Dr. Jim Brandle: For the chance to teach in SNR (recitation sections and the lecture, Agri/NRES 103 for undergraduates). And for hosting great socials for SNR faculty and staff at his home.

Dr. Becky Buller: For the enthusiasm and excitement she brought to the Geography Student Organization.


So what is Baskerville up to today? He is currently the technology coordinator for Area 1, the western third of Nebraska, for the Natural Resources Conservation Service.

"I received a call one day from Neil Dominy, the state soil scientist with the Natural Resources Conservation Service here in Lincoln," Baskerville said. "They needed someone to do GIS work for the agency. I started contracting in the Fall of 2013, initially for experience and a little extra income. But, that grew into a full-time position in the Spring of 2014. I'm still there today."

Baskerville also shared his three big takeaways from being in graduate school at SNR.


Experience as much as you can while still in school: academics, extra-curricular activities, sports, travel, etc.! You can draw upon those experiences for the rest of your life, so really, it's the best investment you could ever make.

If you're an undergraduate - STUDY ABROAD! Also, don't go to graduate school just to delay getting a "real" job. Graduate school should be a catalyst for a career path you've already chosen. So find that career, fall in love with it, then go to graduate school.

If you're a graduate student: Imposter syndrome is real. But it's all in your head, trust me. Just keep going. Charles Darwin and Angela Duckwork are right - it's not always the strongest or most talented who succeed. In the end, it's those who are willing to adapt and persevere. Just keep going.
Elyse Watson, School of Natural Resources