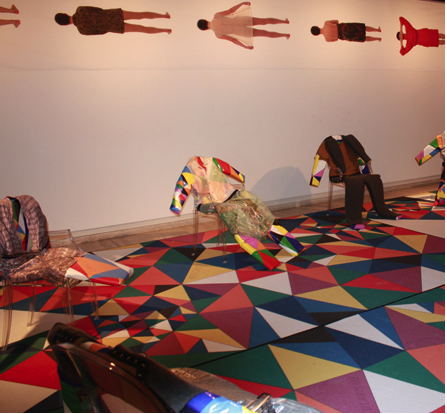 French performance and visual artist Orlan is an artist-in-residence at UNL Nov. 1-5. The residency is a collaboration between the Sheldon Museum of Art and UNL's Interdisciplinary Arts Symposium.

The residency coincides with the exhibition "Orlan: The Harlequin Coat" open at the Sheldon through Jan. 30 and publication of the book "Fabulous Harlequin: Orlan and the Patchwork Self." The book, published by the University of Nebraska Press, was edited by Jorge Daniel Veneciano, director of the Sheldon, and Rhonda Garelick, professor of English and art and director of the Interdisciplinary Arts Symposium.

Scheduled events during Orlan's visit to UNL include:

- Orlan Lecture/Performance, 5:30 p.m., Nov. 2, Sheldon Museum auditorium.

- "Actors and Puppets: A Modern Rivalry," lecture by Martin Puchner, professor of English and comparative literature at Harvard, 5:45 p.m., Nov. 3, Van Brunt Visitors Center.

- "The Cyborg as a Figure of Projection," lecture by Raphael Cuir, French art historian, 3:30 p.m., Nov. 4, Nebraska Union, Georgian Suite.

- Round table discussion, 5:30 p.m., Nov. 5, Sheldon Museum of Art. Panel includes Veneciano; Garelick; Cuir; Matthew Gumpert, cultural critic, Kadir Has University, Istanbul, Turkey; and Marissa Vigneault, assistant professor of art history, UNL.

For four decades Orlan has interrogated every defining aspect of being human - gender, ethnicity, religion, beauty, physiognomy, and even physiology itself - through an endlessly mutating oeuvre that defies categorization. Orlan is most famous for her series of cosmetic-surgery performances in the 1990s in which she reconfigured her face and body as a critique of the standards of beauty imposed on women. With her Harlequin Coat project (on display at Sheldon), Orlan borrows the Renaissance commedia dell'arte trickster hero, the harlequin, as her alter ego, using his patchwork motif as a metaphor for the fragmented, multicolored, multilayered performance of the human signature.
More details at: http://go.unl.edu/7rm