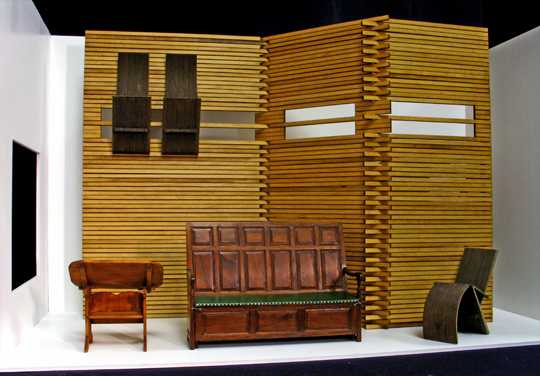 "Contrast," a new miniature exhibition, is on display at the Kruger Gallery located in Architecture Hall.

"Contrast" uses miniature settings to expose objects that differ from their surroundings, forcing the viewer to observe details that may otherwise appear commonplace when shown among similar objects. This exhibition features displays containing 1/12 and 1/6 scale miniature furnishings exploring topics such as secrets and mid-century-modern furniture.

The exhibition highlights 15 miniature rooms containing a portion of the 20,000-piece collection of miniatures in the Kruger Collection. Included in this exhibition are designs by the winners of the third-year Interior Design studio project "Occupying Space: Piece and Plane." The design challenge winners are Lauren Barry; Samantha Braaten; Nolan Golgert and Rex Sandquist.

"The students analyzed objects from the Kruger Collection, then developed a theme contrasting two miniatures, resulting in the design of a third, laser cut miniature. As a final compliment, they created a plane running through their box, seeking to separate, isolate or combine the three pieces in the room," said DiAnna Hemsath, curator of the Kruger Collection.

The exhibition is on view through March 15, 2013.

For more information, or to schedule an optional exhibition tour, contact Hemsath at dhemsath2@unl.edu or 402-472-3560.
More details at: http://go.unl.edu/5pt